After coming home from a long day at work, your bed turns into the most desirable object in your house. However, it can quickly spiral into a nightmarish experience if your mattress is uncomfortable.
An uncomfortable mattress can ruin your much-needed nightly sleep. However, the problem can be easily fixed with the help of a latex mattress topper.
Heartuback is here with the complete buyer's guide to the best latex mattress toppers. With your preference for making the bed softer or firmer, you can always look forward to a sound sleep.
Best Latex Mattress Topper Reviews
Choosing the right latex mattress topper can be quite the hassle. There are thousands of products to choose from and sometimes it's easy to get overwhelmed, which leads to a poor product choice.
Take a look at our top 5 recommended products. They are well-researched and will suit all sorts of sleepers.
1. Pure Green Natural Latex Mattress Topper
Sleep On Latex is made with a natural latex using the highest quality latex to manufacture Pure Green. Although it's a soft topper, their 3 levels of softness can satisfy customers looking for additional firmness.
The product is manufactured using the Dunlop process and provides a supportive latex topper. The mattress topper has great air channels, which makes it very breathable and doesn't change with the climate.
Pros: 👍
100% natural latex
Variable thickness and firmness
Doesn't sink in the middle
Tested for off-gassing
Cons: 👎
Firmness is dependent on proper weight distribution
2. Dreamfoam Bedding Ultimate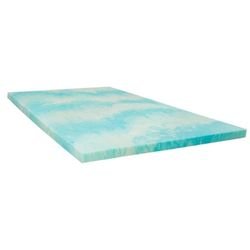 Dreamfoam uses a blend of natural and synthetic foams. Using the Talalay process, it combines 60% synthetic and 40% natural latex. The latex topper also comes with a bamboo cover to keep you cool.
It has a bouncy feel and is available in three levels of firmness. There is much more compression because of the synthetic latex, but it more than makes up for it with the variable levels of thickness.
Pros: 👍
Variable thickness and firmness
Bamboo cover included
Made in the USA
No chemical odor
Cons: 👎
Not 100 natural latex
More compression with heavier weight
3. Organic Textiles Purity
Made from 100% natural latex, Organic Textiles Purity is produced using the Dunlop process. It includes a cover made from organic cotton.
This latex topper is stronger than many other brands. The shape is solid, even when opened. The holes in the mattress topper provide sufficient airflow. It's a great choice for people of all shapes and sizes and can support heavyweights.
Pros: 👍
Organic
Organic cotton cover provided
Very durable
Comfortable design
Added ventilation
Cons: 👎
Maybe firmer for some people
Non-removable cover
Tears may form between channels
4. Exceptional Sheets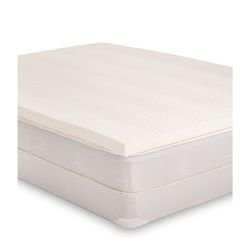 Exceptional Sheets are best suited for people who are unsure about mattress topper firmness. The two-sided latex topper offers different levels of firmness on each side.
It comes with a wave pattern formed on the surface of the topper, which acts as an air circulation system. The surface of this topper is quite durable but doesn't feature many air holes.
Pros: 👍
Wave pattern for heat distribution
Variable firmness in one topper
Doesn't sag over time
Springy and dense
Cons: 👎
No cover included
Higher motion transfer
5. Serenia Sleep
Made from 100% natural latex with the Dunlop process, Serenia Sleep is a soft mattress topper. The cover included is plush but durable; the way it's made prevents the latex inside from crumpling and tearing.
This latex topper comes with elastic straps that keep the topper fixed to the bed. The topper is free from any flame retardant materials, so it's not harmful.
The cover is non-removable but can be spot cleaned. Unlike most mattress pads, this one is cut a little smaller to allow regular sheets to fit.
Pros: 👍
100% natural latex
Easy to flip
Made in the USA
Added elastic straps
Tested and certified
Cons: 👎
Non-removable cover
Edges are not firm
May retain heat more than other toppers
What is a Latex Mattress Topper?
atex mattress toppers are mattress toppers made with latex foam. They are a great choice if you're looking for mattress toppers as they are made from organic materials.
Not only are they great for your health and environment, but they can also reintroduce that comfortable feeling to your old mattress.
Latex toppers are flexible and can easily adapt to your body. They can work in any climate because the cell-structured design provides air circulation and lessens the effect of humidity.
Types of Latex used in Mattress toppers
When talking about latex mattress toppers, you should know that different types of latex are used in the manufacturing of these toppers. The latex used in the toppers can be natural, man-made or a blend of both.
Natural vs. Synthetic
Both natural and synthetic latex feel the same when touched; however, natural latex is more springy, a sensation absent with synthetic latex.
Natural latex is made from rubber harvested from rubber trees. It's the most durable type of latex but has a minimal off-gassing. The smell you get isn't a chemical one—it's a natural scent, not hazardous to your health. Synthetic latex has odor absorbents added into it.
Natural latex is hypoallergenic, however, some people have latex allergies, so be careful. Synthetic latex is best suited for people with any such susceptibility. For best results, go for non-latex mattress toppers.
Talalay vs. Dunlop Latex
You might have heard the terms Talalay and Dunlop to describe different types of latex foam. These two are the manufacturing process used for natural latex.
For both processes, the rubber cap is disturbed to make bubbles. Then, it's poured into a mold. The mold is then baked. The Talalay process creates a consistent layer of foam using the treated mold. For the Dunlop process, the sediment is allowed to sink at the bottom creating a denser foam.
In short, the Talalay has a cloud-like feel to it and is mostly used in the top layers of a mattress. However, Dunlop latex is sturdier and firmer.
Why Choose a Latex Mattress Topper?
Before going through the benefits of a latex mattress topper, take a look at the reasons why you should consider a topper.
Changing the firmness of a mattress
One of the main uses of a mattress topper is to alter the firmness of your mattress. If you have a mattress that is uncomfortable, you can adjust it to suit your needs with a latex mattress topper. Instead of buying a whole new mattress, you can get a topper that will give you better back support and more comfortable sleeping experience.
Sweating while sleeping
There are many people who wake up drenched in sweat in the middle of the night. Usually, your mattress is to blame as it doesn't retain heat properly. A latex mattress topper can easily solve your problem. Most latex toppers are constructed in such a way that they have channels that circulate air leaving you free from night sweats.
Extending mattress lifespan
A latex mattress topper pairs new life to your worn-out mattress. The top layer of a mattress gets the most abuse; however, if you protect that layer with a latex topper, your mattress will last a really, really long time. Incidentally, a latex topper can also renew your old mattress as it's a cheap upgrade that gives you almost all the requirements of the top layer of a mattress.
Pros and Cons of Using a Latex Mattress Topper
Latex mattress toppers come with their own sets of benefits and drawbacks. But remember, not all factors are "bad" and they can vary from person to person. What's negative for one person might actually be positive for the next.
Here are the pros and cons of a latex mattress topper, at a glance.
Pros: 👍
They are known for their durability. A latex topper will last a minimum of 10 years.
The firmness of a latex topper can support most overweight people comfortably.
Breathable cell structure ensures that the latex topper can nicely adjust with the climate.
As a latex topper is made from organic rubber, they are very environment-friendly
Latex toppers are hypoallergenic—i.e. it can withstand molds, dust mites, etc.
A latex topper is a cheaper alternative than getting a new mattress; it can drastically extend the life of your current mattress.
Cons: 👎
Can be too firm for some people.
There have been complaints that sleeping on latex mattress toppers leaves an impression on the skin.
Prices can be a bit higher than other mattress toppers
Some designs have compact cell structures which may result in poor heat retention.
Conclusion
Latex mattress toppers are the deal! They provide a double treat: they are supportive plus they don't slump under pressure. We have given you a comprehensive guide about the best latex mattresses in the market and tried to keep the choices as diverse and nifty as possible.
But the final choice obviously rests in your hands; you might end up choosing something entirely different from what we recommended. But, that's fine! After all, everyone's preferences are different. However, we still hope the above guide helps you to choose something that strikes an optimum balance between budget and utility and lasts you for a long time. Thanks for reading! Please visit our other website for pets.