Erica Abi Wright, who is professionally known as Erykah Badu, was born on February 26, 1971. She is an acclaimed American actress, singer, songwriter, rapper, and record producer. Badu's music, which is heavily influenced by R&B, soul, and hip hop, led to her rise to fame in the late 1990s. Her inaugural album, Baduizm, released in 1997, played a significant role in propelling the neo soul movement. This achievement earned her the title "Queen of Neo Soul" from music critics.
The commencement of Badu's successful career was marked by her opening performance for D'Angelo in Fort Worth in 1994. This performance caught the attention of Kedar Massenburg, a record label executive who subsequently signed her to Kedar Entertainment. Baduizm, her debut album, was released in February 1997 and featured four singles: "On & On", "Appletree", "Next Lifetime", and "Otherside of the Game". The album was bestowed with triple platinum certification by the Recording Industry Association of America (RIAA). In November of the same year, she released her first live album, titled Live, which was certified double platinum by the RIAA.
Badu, now 45, has always lived in Dallas. But every year, she spends a good amount of time on the road. This has been her routine since 1997, when she released her first album, "Baduizm." The album sold millions of copies and won her two Grammys. It made her one of the most famous soul singers today. People used to call her music "neo-soul." But now, it's not just about being new or old. Her music is unique and maybe even more enjoyable than before.
Table of Contents
Overview
| | |
| --- | --- |
| Birth Name | Erica Abi Wright |
| Date of Birth | February 26, 1971 (age 52) |
| Place of Birth | Dallas, Texas, U.S. |
| Education | Booker T. Washington High School, Grambling State University |
| Occupations | Singer, Songwriter, Rapper, Record Producer, Actress |
| Years Active | 1994–present |
| Works | Discography |
| Partners | André 3000 (1996–1997), Common (2000–2002), The D.O.C. (2003–2004), Jay Electronica (2004–2009), Carl Jones (2013–2018) |
| Children | 3 |
| Awards | Full list |
| Genres | R&B, Neo Soul, Psychedelic Soul, Conscious Hip Hop, Progressive Soul |
| Instrument(s) | Vocals |
| Labels | Control Freaq, Motown, Kedar, Universal |
| Formerly of | Soulquarians |
| Website | www.erykah-badu.com |
Early life
Erykah Badu, originally named Erica Abi Wright, was born and raised in Dallas, Texas. After her parents separated, her mom single-handedly raised her and her siblings, Eevin and her sister, with occasional help from their grandmothers. At just four years old, Badu started performing, singing and dancing at local venues like the Dallas Theater Center and The Black Academy of Arts and Letters, guided by her godmother, Gwen Hargrove, and her uncle, the founder of the academy, Curtis King.
By her early teens, Badu was already showcasing her talent, freestyling on a local radio station with artists like Roy Hargrove. She felt her birth name, Erica, was a "slave name" and changed it to Erykah, where "kah" symbolizes the inner self. She chose the last name "Badu" because it was her favorite jazz scat sound and in Ghana's Akan culture, it refers to the tenth child.
After high school, she attended Grambling State University, a historically black college, to study theater but left in 1993 before graduating to concentrate on her music. To make ends meet, she worked several minimum-wage jobs and taught drama and dance to kids at the South Dallas Cultural Center. While working and touring with her cousin, Robert "Free" Bradford, she recorded a 19-track demo, "Country Cousins", which caught the attention of Kedar Massenburg. He helped her record a duet with D'Angelo, called "Your Precious Love", and eventually landed her a record deal with Universal Records.
Career
Baduizm and Live [1997-1999]
Badu's first album, Baduizm, hit the music scene in early 1997 and quickly became a hit. It debuted at number two on the Billboard charts and snagged the top spot on the US Billboard Top R&B/Hip-Hop Albums chart. The success of Baduizm helped solidify Badu's place in the emerging neo-soul genre and her unique singing style drew comparisons to Billie Holiday. The album achieved triple platinum status in the US, and Gold in both the UK and Canada.
Baduizm produced four singles, with the lead single "On & On" coming out in December 1996. It climbed to number 12 on the US Billboard Hot 100 charts and made it to the UK Singles Charts, even popping up on the New Zealand charts. "On & On" and the success of the album led to Badu's first Grammy Awards nomination and win, bagging Best Female R&B Vocal Performance for the single and Best R&B Album for Baduizm.
While expecting her son Seven, Badu recorded her first live album, aptly named, Live. The album dropped on November 18, 1997, around the same time as Seven's birth. It reached number four on the US Billboard 200 and again topped the US Billboard Top R&B/Hip-Hop Albums chart. The album went double platinum in the US, with over two million copies shipped. The lead single from the album, "Tyrone", which calls out a neglectful and cheap boyfriend, became another R&B hit.
Badu also teamed up with The Roots, who had previously worked on Baduizm, for their 1999 album Things Fall Apart. She featured on the song "You Got Me", alongside American rapper Eve. The song, co-written by Jill Scott, peaked at 39 in the US and 31 in the UK. It ended up earning The Roots and Badu a Grammy Award for Best Rap Performance by a Duo or Group in 1999.
Mama's Gun and Worldwide Underground [2000-2006]
After a break to focus on motherhood, Badu made a comeback in 2000 with a new album, Mama's Gun. This album had a more natural sound than her previous work and was mainly produced by the Soulquarians and renowned bassist Pino Palladino. The first single from the album was a remix of "Bag Lady", which ruled the R&B charts for seven weeks. The album got great reviews, especially for its lyrics, though some critics found them a bit tricky to understand at first. Even though it didn't rank as high as her first two albums, Mama's Gun still went platinum and "Bag Lady" got a Grammy nomination.
In 2000, Badu was romantically involved with Common, another member of the Soulquarians. Together, they released "Love of My Life (An Ode to Hip-Hop)" for the Brown Sugar soundtrack. The song reached number 9 on the pop charts, was number one on the R&B charts, and won Badu her fourth Grammy in 2003. In 2001, Badu set off on the Mama's Gun World Tour, starting in Cleveland, Ohio at the Allen Theatre on February 10. But after the release of Mama's Gun and "Love of My Life", Badu hit a creative wall and experienced writer's block.
On September 16, 2003, Badu brought out her third studio album, Worldwide Underground. This album had more of a jam vibe than her previous ones, and Badu described it as "one continuous groove." When it first came out, Worldwide Underground got some pushback for its relaxed style and unconventional songwriting. Despite that, it still received mostly positive feedback from critics.
The album did pretty well sales-wise too. It debuted at number three on the U.S. Billboard 200 chart in the first week of October 2003, selling over 143,000 copies right off the bat. It stayed on the Billboard 200 for 11 weeks and also reached number two on Billboard's Top R&B/Hip-Hop Albums, staying on that chart for 30 weeks. By December 2003, the album had sold nearly 400,000 copies in the US alone.
On October 28, 2003, Worldwide Underground got gold certification from the Recording Industry Association of America, which means it sold over 500,000 copies in the United States. According to Nielsen SoundScan, the album has sold more than 600,000 copies in the US.
The first single from the album, "Love of My Life (An Ode to Hip Hop)", climbed up to number nine on the Billboard Hot 100 and hit number one on the Hot R&B/Hip-Hop Songs chart. The second single, "Danger", got to number 82 on the Hot 100 and number 27 on the Hot R&B/Hip-Hop Songs, while the third single, "Back in the Day (Puff)", made it to number 62 on the Hot R&B/Hip-Hop Songs chart. The album earned Badu another four Grammy nominations. She also lent her voice to Zap Mama's 2004 album, Ancestry in Progress, on the track "Bandy Bandy."
In 2004, Badu hit the road for the "Worldwide Underground Tour". The US leg of the tour started on February 3 in New Orleans and went on through the winter and spring. Floetry joined the tour as the opening act on February 5 in Houston, and The Roots made a special appearance at the February 11 show in Los Angeles. Badu picked up the tour again in the fall, adding more dates in the US and Europe.
In 2005, Badu served as a judge for the 4th Annual Independent Music Awards to help boost independent artists' careers. She also co-founded the Sugar Water Festival with Queen Latifah and Jill Scott. The festival, which started in 2005 as a way to raise health awareness among African-American women, toured amphitheaters and arenas in the US during the summers of 2005 and 2006. British duo Floetry opened the shows in 2005. The festival came back briefly in 2006 with Kelis as the opening act and comedian Mo'Nique as the host, but that was its last year. There were plans to take the festival to Europe and Asia, but those plans fell through.
In 2006, Badu went on the Summer Tour, starting on June 10 in Knoxville, TN, with three US shows, then heading to Europe in July. Badu also performed at the Sugar Water Festival in August, co-headlining with Jill Scott and Queen Latifah.
New Amerykah Part One [2007-2009]
After getting her first computer as a Christmas present, Badu started chatting with and getting music from Questlove, Q-Tip and J Dilla, among others. She soon started using her laptop as a mini recording studio to create backing tracks for songs. This led to the main recording sessions for her album at Electric Lady Studios in New York City. In 2007, it was rumored that Badu was working on three albums to be released over the next year or two. "Honey", a new single produced by 9th Wonder, was leaked on the internet in November 2007.
Her fourth studio album, New Amerykah Part One, was released by Universal Motown Records in the US on February 26, 2008, which was also Badu's 37th birthday. It came out in Europe on February 29, in Australia and the UK on March 3, and in Japan on March 12. The Japanese and Australian versions both included the bonus track "Real Thang". The album's digital version on the iTunes Store also featured the "Tumbling Dice Remix" as a bonus track. New Amerykah Part One was also released as a double vinyl LP on March 11, and in USB stick format.
New Amerykah Part Two and Window Seat controversy [2010-2014]
Badu's fifth album, "New Amerykah Part Two (Return of the Ankh)", was released in the U.S. on March 30, 2010, and in Japan on April 14, 2010. Critics loved it and it quickly climbed the charts, debuting at number four on the US Billboard 200, selling 110,000 copies in its first week. It also hit number two on the R&B/Hip-Hop Albums chart. Internationally, it did well too, making the top 50 in several countries.
Throughout March 2010, Badu showcased the album on various TV shows like Late Night with Jimmy Fallon and The Wendy Williams Show. She also made the cover of EQ magazine and was featured in well-known magazines like Playboy and Rolling Stone. She even did a surprise midnight performance at the El Rey Theatre in LA.
In January 2010, Badu released an internet-only promotional single "Jump up in the Air (Stay There)", featuring Lil Wayne and Bilal, on her official website. The album's first official single, "Window Seat", was shared through a downloadable link on her Twitter. It peaked at number 16 on the R&B/Hip-Hop Songs chart. The second single, "Turn Me Away (Get MuNNY)", was a free download released in March, which climbed to number 87 on the chart.
In February 2011, a new video for "Gone Baby, Don't Be Long" was released on Vimeo. Badu and her friend Questlove tweeted the video.
On March 13, 2010, a controversial video was filmed for "Window Seat". It was shot guerrilla style in Dallas, Texas at the site where President John F. Kennedy was assassinated. Badu was seen stripping her clothes as she walked along a sidewalk until she was naked at the assassination site.
When asked about being naked in front of children, Badu said, "I didn't think about them until I saw them, and in my mind I tried to telepathically communicate my good intent to them". She clarified on The Wanda Sykes Show that she didn't mean to offend JFK's memory, and the video was a protest against conformity.
In the following years, Badu made appearances on albums by Flying Lotus, supergroup Rocketjuice and The Moon, Robert Glasper, Tyler, The Creator, Bonobo, and Janelle Monáe. Monáe's single, "Q.U.E.E.N", which featured Badu, peaked at 47 on the US Billboard Hot R&B/Hip-Hop Songs charts.
Touring and mixtapes [2015-2019]
In May 2013, Badu shared she was working on a new project without a specific deadline. By July 2014, she was still hard at work on the album, including recording drum tracks in Africa. She planned to meet with her record label to set a deadline for the album. She later revealed she was collaborating with producer Flying Lotus, whom she had initially met on MySpace.
In 2015, Badu was featured on "Rememory", a track from Donnie Trumpet & The Social Experiment's album "Surf". That July, she put out a free mixtape of her favorite tracks, mostly vintage funk, soul, and jazz songs. She performed at the grand opening of The Bomb Factory in Dallas, Texas, in March 2015, alongside fellow Dallas native Sarah Jaffe.
In early October, she put out a remix of Drake's "Hotline Bling", and later that November, she released a mixtape, "But You Caint Use My Phone", exclusively on Apple Music. A week later, it was made available on other platforms. The mixtape was released without her label Universal knowing, as she sent it directly to iTunes. It was her first release under her own label, Control Freaq. The mixtape received good reviews and debuted at number 14 on the Billboard 200. Badu also hosted the Soul Train Music Awards from 2015 to 2017.
In 2016, she announced a follow-up mixtape, "This $hit Too Easy", which hasn't been released yet. That year, she released three new tracks on SoundCloud. In January 2018, she announced another mixtape that also remains unreleased. She shared on Vulture that she was making slow but steady progress on her sixth studio album.
Badu had her annual "Still Boomin'" birthday concert at The Bomb Factory in February 2016, featuring a surprise performance by André 3000 of Outkast and local Dallas hip hop acts. That year, she also appeared in the movie "The Land" and released the title track featuring Nas.
In August 2018, she performed live for NPR's Tiny Desk Concerts. The same day, NPR released an interview with her where she talked about her experiences as a doula, her humor, her stand-up comedy, and her decision to avoid print interviews after being misquoted in 2008. In November, while hosting NTS series "Sound of Color", she debuted a previously unreleased song, now known as "Money Can't Buy Me Love".
In June 2019, she teased a new song at Barcelona's Primavera Sound Festival, "The Work (The Way She Sees)". The next day, she released a new single, "Tempted", a cover of Squeeze's song, which is her first official single since "Phone Down" in 2015. In September, she confirmed via Instagram that her sixth studio album would be coming out soon.
Contributions and features [2020-2023]
In May 2020, she joined D'Angelo in a song called "Beehoove" for Slingbaum's first album, which was only available on vinyl. Then, on June 19, 2020, she appeared in Teyana Taylor's song "Lowkey." In August 2020, during the COVID-19 lockdowns, she helped with a live virtual recording for Bilal's EP called VOYAGE-19. The EP was sold the next month, and the money made was given to the musicians who were struggling because of the pandemic. In December 2022, she was part of a song called "Yun" on RM's first studio album, Indigo.
Musical style
Badu's music is inspired by R&B, 70s soul, and 80s hip hop, and it became linked with the neo soul style in the 1990s, along with artists like D'Angelo. People often compare her musical style to jazz legend Billie Holiday. Badu is known as an experimental R&B singer, and her music explores modern forms of soul and hip hop. Her album "Mama's Gun" is a neo soul album that blends funk, soul, and jazz. Critics see it as a female counterpart to D'Angelo's neo soul album "Voodoo," as they both share a similar musical style. Her next album, "Worldwide Underground," continued with the neo soul style, but also included hip hop and funk, and had a unique musical structure. Her album "New Amerykah Part One" is a mix of funk, soul, hip hop, jazz, and electronica. Unlike "New Amerykah Part One," which was digitally produced and had political themes, "New Amerykah Part Two (Return of the Ankh)" uses samples and live instruments.
Badu's music is largely influenced by her beliefs in the Nation of Gods and Earths and her exploration of her African roots. The songs in her album "Baduizm" reflect her personal views on life. Her philosophy is influenced by African ideas, African-centered and Five Percent beliefs, and Southern African-American folk traditions. "Mama's Gun" has lyrics that are like a confession, and it covers topics like insecurity, social issues, and personal relationships. "Worldwide Underground" has simple songwriting about hip hop culture, love, life in the ghetto, and gang culture. "New Amerykah Part One" is a deep concept album with socio-political themes and mostly serious subject matter.
Impact and legacy
Even though she doesn't agree with the label, Erykah Badu has been called "the first lady of neo-soul" and "the queen of neo-soul." Her album "Baduizm" was a huge hit and made her famous, helping her become one of the top artists in the emerging neo soul genre. Along with D'Angelo's "Brown Sugar" and Maxwell's "Urban Hang Suite," her album is credited by music critics for boosting the popularity of neo soul and helping it get more mainstream attention.
Erykah Badu's song "Master Teacher" made the phrase "stay woke" popular. It means to keep being aware of what's going on, questioning the status quo, and aiming for something better.
In 2023, Rolling Stone put Badu at number 115 on its list of the 200 Greatest Singers of All Time.
Personal life
Badu started following a vegan diet in 2006. She said, "Vegan food is the real soul food. Soul food is food that feeds the soul. And to me, your soul is your intention. If your intention is pure, you are pure." She spends her time living between her hometown and Fort Greene, New York.
In 1996, Badu started a relationship with rapper André 3000 from OutKast. They had a son named Seven Sirius Benjamin on November 18, 1997. They broke up in 1997 before their son was born. In 2000, OutKast released the song "Ms. Jackson", which was about André 3000's relationship with Badu and her mother. The song got to number one on the Billboard Hot 100 and won a Grammy Award.
On July 5, 2004, Badu had a daughter, Puma Sabti Curry. Puma's dad is the Texas rapper The D.O.C. On February 1, 2009, Badu had her third child, a girl named Mars Merkaba Thedford, with her boyfriend of five years, rapper Jay Electronica.
In 2014, for the Okayplayer platform and OkayAfrica TV web channel, Badu had her DNA tested and genealogists looked into her family history. They found out that Badu's mitochondrial DNA can be traced back to the Bamileke people of Cameroon in Central Africa.
Erykah Badu Legal Issues and Controversies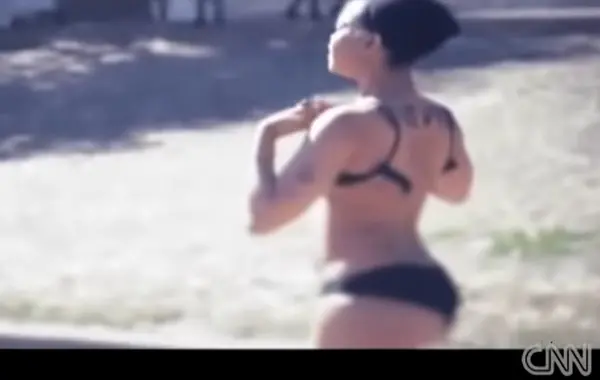 On April 2, 2010, Badu got in trouble for being naked in Dealey Plaza in Dallas, Texas, while she was filming a music video for her song "Window Seat". No one called the police when it happened, but the Dallas Police Department looked for witnesses after the video came out. Sgt. Warren Mitchell said they decided to give Badu a ticket for a small crime that could cost up to $500 after a witness named Ida Espinosa, 32, from Vernon, gave a formal statement to the police on April 1. Espinosa didn't want to talk to The Associated Press. On April 28, 2010, Badu said she was not guilty instead of paying the fine by mail. On August 13, she paid the $500 ticket and started six months of probation.
In February 2012, Badu's concert in Malaysia was canceled because she had a temporary tattoo of the word Allah on her body.
In April 2014, the US-based Human Rights Foundation criticized Badu for performing at King Mswati III's birthday party. He's the ruler of Eswatini (which used to be called Swaziland). Mswati, the last total monarch in Africa, is known for violating human rights while living a luxurious life in a poor country with a high HIV rate. Badu gave Mswati a $100 bill and a good-luck stone.
In a January 2018 interview with Vulture, Badu was asked about accusations of being anti-Jewish based on a 2008 Haaretz article. The article says she told a crowd in Tel Aviv, "<Louis> Farrakhan is not anti-Jewish. He loves all people." She said she wasn't anti-Jewish, but said, "I'm a humanist. I see good in everybody. I saw something good in Hitler." When asked to explain what she meant, Badu said she liked Hitler's paintings.
In the same interview with Vulture, Badu had a different reaction to Bill Cosby's sexual misconduct than most other American celebrities. She said, "I love Bill Cosby, and I love what he's done for the world. But if he's sick, why would I be angry with him?"
In a January 2019 concert, Badu was booed by fans after she showed support for musician R. Kelly. She said "I don't know how everyone else feels about it but I'm praying for R. … I love you. Unconditionally". Badu was criticized for seeming to support R. Kelly after the documentary "Surviving R. Kelly" came out on Lifetime.