Well, a platform bed is definitely an upgrade to the standard furniture in your home. If you're able and you've decided to get a platform bed, then it's likely you'll also need a new mattress.
Why? Well, not all mattresses are suitable for platform beds, so you'll have to find a mattress that goes with it.
What are the best mattresses for platform beds? And what are their features?
We here at Heartuback present you with the ultimate guide to all platform bed mattress solutions. Read on to find more.
Platform Bed Mattresses for 2023 – Reviews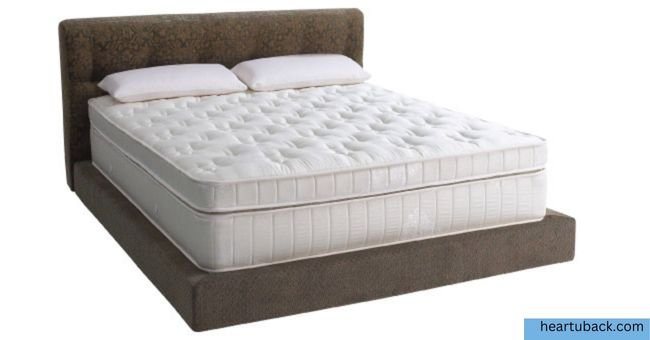 Selecting the best mattress for platform beds can be overwhelming. There are thousands of models available on the market with various features, so how do you know which kind to buy? To save you from all that hassle, here are our top recommended platform bed mattresses.
#1. Zinus Ultima Comfort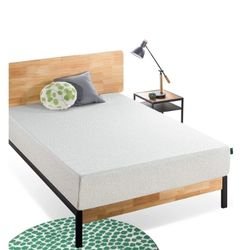 Overview
The Zinus Ultima Comfort Memory Foam is a conforming mattress which supports the body for a perfect night's sleep. There are three layers in this platform bed mattress: memory foam, pressure-relieving comfort foam and a high-density base support foam.
These layers, being durable and molding perfectly to the shape of your body, really are perfect for anybody. The foam is of high quality and certified by CertiPUR-US. BioFoam, an evolution of memory foam, helps keep the mattress fresh. Not to forget, it comes with a ten-year warranty. This one is a great choice for your home any day.
What We Love About It
It comes in king, California king, narrow and queen mattress for platform beds.
Pros:
Firm
Easily aligns with the body
Affordable
10 Year warranty
Cons:
#2. Signature Sleep Memoir
Overview
Composed of 4 inches of Memory Foam and 8 inches of High Density Foam, the its unique design sculpts around the body for added comfort throughout the night. This eco-friendly mattress has been certified by CertiPUR US, and it is made without lead, mercury, heavy metals, TDCPP, ozone depleters, PBDE and other toxic materials.
It also meets the Federal Flammability Standards 16 CFR 1633. Additionally, this mattress for platform beds is covered with the best quality fabric cover which is both breathable and easy to use.
What We Love About It
Customized to different preferences, Signature Sleep Memoir 12 Inch Memory Foam Mattress has been designed keeping in mind that one size never fits all. The company offers mattresses made up of both Memory Foam and Charcoal Gel Memory Foam, and they are available in five sizes.
Pros:
CertiPUR certified.
Available in 5 sizes.
Available in 8 styles.
Comes with a breathable cover.
Cons:
The cover is non-removable.
The fiberglass in the inner cover may cause rashes and allergies.
#3. Tuft & Needle Mattress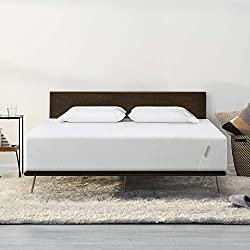 Overview
Tuft and Needle is a known name by many. Rather than using dated materials, such as Memory Foam and Latex, Tuft and Needle mattresses are made of T&N Adaptive Foam, which provides bounciness and support to the sleeper all night long. This special type of foam eliminates the feeling of 'sinking in' and 'feeling hot' which were common issues in Memory Foam and Latex mattresses.
You won't regret your purchase, as the company permits a 100 nights trial with a free return for customers who are not satisfied with their mattresses. It is reported that 95% of their customers would keep the mattresses eventually.
This mattress for platform beds provides adequate support so that nobody has to feel like 'sinking' in their bed. Open-cell technology enables air to flow in and out of the mattress, which in turn regulates the body temperature of the sleepers.
What We Love About It
Tuft and Needle Mattress brings a lot of goodies on the table. Top rated and No. 1 on Amazon, this product lets the customers try out the mattress for hundred nights and return, if not satisfied.
We absolutely love the fact that this product has met the demanding standards of CertiPUR, Oeko-Tex 100 and Greenguard Gold!
Pros:
Provides more relief from pressure.
CertiPUR, OEKO TEX 100 and Greenguard Gold certified.
Has a 10-year warranty.
Available in 2 styles and 6 sizes.
Ranked No. 1 Top Rated on Amazon.
100 nights trial available with a free return policy.
Cons:
May wear out easily after 6 months of use.
May not be suitable for people with back pain.
#4. LUCID Gel Memory Foam Mattress
Overview
This platform mattress is made up of 2.5 inches of gel infused Memory Foam that helps in controlling temperature and air flow. Its 7.5 inches High Density Foam Base gives the necessary support for a good night's sleep.
LUCID 10 Inch Gel Memory Foam Mattress has a TENCEL blend fabric cover that is able to regulate both temperature and moisture. Whether you are a side sleeper or heavyweight, this mattress won't let you down.
What We Love About It
LUCID 10 Inch Gel Memory Foam Mattress is directly made available from the manufacturer without any retail interference. Hence, the company is offering high-quality mattresses on an affordable budget.
Pros:
10-year warranty.
CertiPUR certified.
Available in 8 sizes.
Available in 5 styles.
Cons:
May not be suitable for some people.
Prone to grow mold if not taken proper care.
#5. Sleep Innovations Shiloh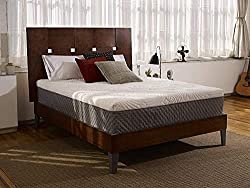 Overview
Made with a team of sleepovers, the Shiloh mattress comes provides absolute comfort and keeps your body aligned when you sleep. It gives your back the support and relaxation it needs with the proven pressure point relief at a comfortable temperature.
This 12 inches long mattress is ideal for all kinds of snoozers. Its 2.5 inches deep top layer and 9.5 inches support bottom layer are bonuses to your comfort. The DuoComfort design also includes a memory foam top layer for you to have a good night's sleep.
What We Love About It
The whole mattress comes in a deluxe quilted cover that is precisely tailored to give you an opulence feel. Moreover, the package will also arrive rolled in a box at your doorstep for convenience.
Pros:
Perfect for queen sized beds
Suitable for all sleeping positions
DuoComfort designed memory foam
Deluxe quilted cover
Convenient boxed packaging
20-year warranty
Cons:
The support degrades over time
#6. Classic Brands Cool Gel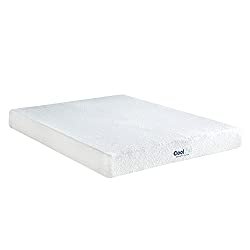 Overview
This mattress for platform beds gives pressure relief and controls the temperature to prevent sweating. The surface remains plush and comfortable, so you are able to sleep through the night peacefully.
The gel memory foam has a few special features – breathability, adjustability, and plush feel. That is possible because this platform bed mattress has been developed with 2.5 inches of cool gel foam, 2 inches of memory foam, 2 inches of soft comfort foam and 8 inches of high-density base foam.
What We Love About It
The cover of the mattress is beautifully knitted with waterfall edge. Most importantly, the mattress is hypoallergenic, bacteria-free, mold-free, allergen-free and free of dust mites.
Pros:
Suitable for RVs, Campers, Trucks, and Trailers.
Available in 2 sizes.
CertiPUR certified.
Use BioFoam.
10-year warranty.
Cons:
May decompress easily.
Maybe too hard for some people.
#7. Brentwood Home Cypress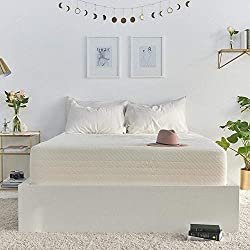 Overview
One of our favorite picks of a great mattress for platform beds is the Brentwood Home Cypress, with a 3.5-inch gel memory foam aids in relieving pressure. It's made with New Zealand wool, which is a naturally sustainable material and is known for having cooling properties.
The solid 7.5-inch base is designed to provide solid support and to properly and evenly absorb your weight. It also has a soft, durable bamboo-derived rayon cover, free of harmful chemicals. And finally, it's odor-resistant because of the wool lining.
What We Love About It
The removable zipper cover blocks odors regulates temperature and wicks moisture. It is also washing-machine friendly and very easy to clean.
Pros:
Isolates motion
Gel layers provide cooling
Supports the body
Plush
Cons:
Maybe soft for back sleepers
#8. Live & Sleep Mattress
Overview
This Memory Foam mattress is designed to be breathable, and it uses no coil, latex or spring, which promotes optimum sleep for all. The product is made up of High Density Support Base that gives you a unique 'luxury hotel bed experience'.
CertiPUR US and OEKO TEX certified, Live and Sleep Memory Foam Mattress has a 20-year warranty! With every purchase, you also received a standard Memory Foam Pillow!
It is suitable for any room in the house – whether that be a guest room or the bedroom. Also, this platform mattress cover is easy to separate and washable. Luckily, it can be set on platform beds, on hard floors and even adjustable beds.
What We Love About It
Live & Sleep Memory Foam Mattress is ideal for stomach and back sleepers. It has been reported that 85% of customers who purchased this product have expressed satisfaction with their purchasing decisions.
Pros:
Available in 8 sizes.
Top rated with the lowest price in the market.
Made from non-toxic materials.
A Memory Foam pillow is included with every purchase.
Uses Smart Recycled Packaging to lower carbon traces.
Cons:
Dips and sags may appear after a while of usage.
Maybe hotter than regular mattresses.
#9. Olee Galaxy Hybrid
Overview
Olee Sleep Galaxy Hybrid Gel Infused Memory Foam and Pocket Spring Mattress is 13 inches thick, with 5 layers of materials included in it. The gel infused Memory Foam modulates temperature and gives relief to pressure points.
This mattress for platform beds was specially designed to support the vertebrae during sleep. The individually encased coils help to distribute weight evenly over the mattress. Any motion disturbances on the mattress are also eliminated because of the coils.
What We Love About It
Olee Sleep 13 inch Galaxy Hybrid Gel Infused Memory Foam and Pocket Spring Mattress has 5 layers of materials as follows – Dura coil, High-Density Foam, Convoluted High-Density Foam, Dura-Foam, Memory Foam, and Jacquard Cover.
The company's R&D department is constantly working with new innovations for better sleep and comfort.
Pros:
Available in 3 sizes.
Has 5 layers.
CertiPUR and OEKO TEX 100 certified.
Long-lasting support.
10-year warranty.
Cons:
May not be suitable for some people.
May sag if not used properly.
#10. Signature Sleep Hybrid Coil Mattress
Overview
The Signature Sleep Mattresses are on the top of our list of best mattresses for platform beds with innerspring because they feature 10-inch independently-encased coils to facilitate equal weight distribution by aligning with the curves of your body.
Made with VOC CertiPUR-US certified foam, it's free of lead and heavy metals. The memory foam provides helps to get rid of motion transfer when you toss and turn.
The high-density comfort coil springs properly spread out to support and balance for your body. In addition, the construction is such that the life of the mattress is extended and we get the best form of comfort and support.
What We Love About It
For an unmatched night's sleep, this is one of the most luxurious mattresses available, due to its combination of comfort and functionality.
Pros:
Memory foam for comfort
Perfect alignment with the body
Memory Gel
Soft, durable cover
Cons:
What are Platform Beds?
Simply put, a platform bed is a bed consisting of a mattress supported by a platform, which sometimes contains drawers for storage. It offers support for any type of mattress without the need for a box-spring.
There are many designs for platform beds on the market; however, their basic structure consists of a lower profile, flat or slatted support; most fit really nicely with the contemporary decor.
In addition to adding a touch of class in your bedroom, a platform bed also makes for a sound investment that gives you a comfortable sleeping experience.
Platform beds are sturdy and a great choice for people who want to save storage space and money.
Weight Restrictions
Many people are concerned about how much weight a platform bed can hold. In truth, there is no definitive answer as a platform bed can hold anywhere from 450 lbs to 4500 lbs. It depends on the individual design of a platform bed and its unique weight capacity.
If you're concerned about a bed's robustness, it's best to get a platform bed with a flat foundation. In case of extreme pressure, individual slats can break; but really, in a worse comes to worst, if need be, slats can be replaced individually.
What Does a Platform Bed Look Like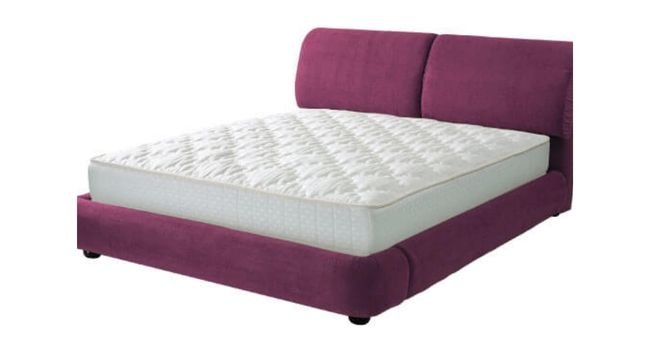 A platform bed is an aesthetic bed that has a leveled, rectangular frame, often with adjustable wooden slats to support a mattress. It has a low frame and doesn't require a foundation or a box spring to hold the mattress. We have discussed the features of a platform bed below:
Aesthetic
A platform bed has a low profile, with a sleek, modern design. They come in unique colors, such as cappuccino, espresso, maple, and other natural colors for a touch of sophistication. Additionally, a platform bed has a very clean finishing that really adds to the beauty of the room.
Stability
Having a mattress on a platform bed is better than on a box spring. The flatness of the bed's structure is ideal for supreme stability and support. A platform bed is also safer than higher beds. It is a better choice for the sick, the old, pets and kids.
Storage
Traditional bed structures rarely come with a storage option. But, platform beds have plenty of storage. You might find drawers, either placed vertically or horizontally beneath the mattress where you can store sheets, blankets, and pillows. By compartmentalizing the space in the drawers, you can store more items as needed.
Affordability
Since platform beds don't require headboards, floor rail systems, box springs or other foundation bases, they can save a lot of money. The bed is structured in a way so that you won't have to invest in anything other than a decent mattress.
Comfort
You can use any type of mattress on a platform bed. The slats underneath promote air circulation, preventing the mattress from gathering mold and mildew. The slats also keep the mattress cool, adding more comfort to the sleeper.
How are Platform Beds Better than Regular Beds?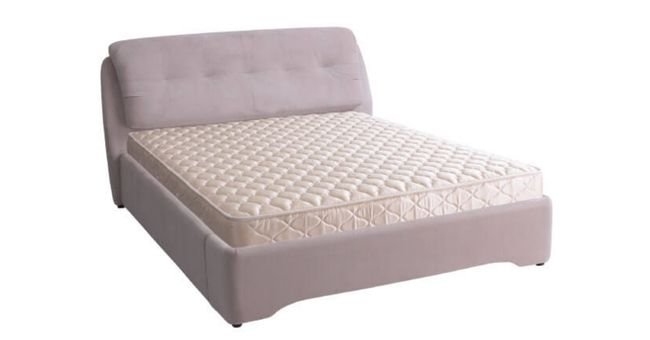 A number of factors distinguish platform beds from regular beds. We've listed a few below:
Modern vs. Traditional Look
Platform beds are more modern, whereas regular beds have traditional designs and functionality. Platform beds are sleek, simple and a minimalist's favorite. Regular beds are rather complex in appearance and usability.
Economical vs. Expensive
Most regular beds require box springs, floor rail systems, headboards, and other miscellaneous features to set the beds. But platform beds don't require any of these things, which is why you can save money by purchasing them.
Storage vs. No Storage
Platform beds are everybody's favorite because of its storage features. Platform beds have enough storage space under the mattress platform, allowing people to store miscellaneous objects out of sight.
Airy vs. Stuffy
The wooden slats beneath the platform bed allow air to flow through the mattress. They prevent mold and mildew from forming, and they also keep the mattress cool. On the other hand, regular beds don't have this feature, thus cannot prevent mold infestation or control the temperature.
Types of Mattresses Best for Platform Beds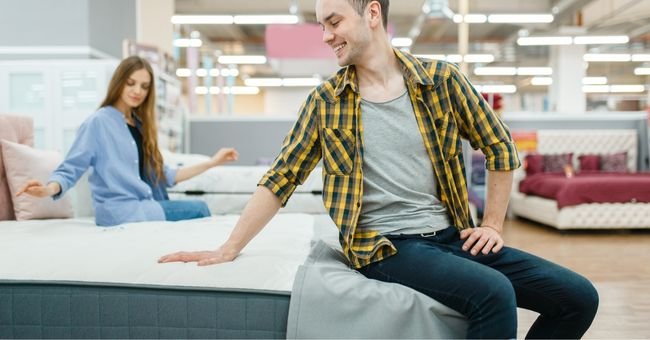 There are a few different types of mattress that tend to work great really well with platform beds. Your choice will depend upon the material and the comfort level you're looking for. Personal preference and lifestyle also matter a lot. Have a look at the different types of mattresses below.
#1. Innerspring Mattress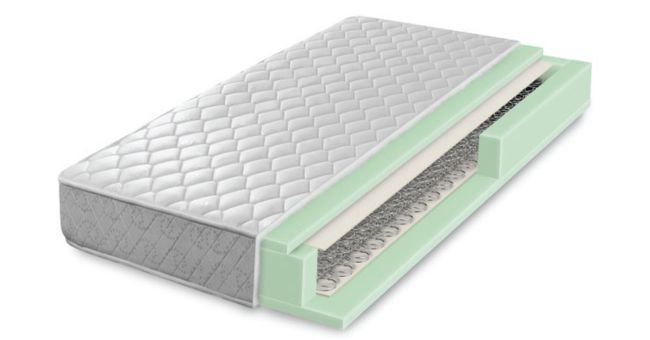 Innerspring mattresses are one of the most widely available mattresses in the world. They are made up of interlocking metal coils with a netting placed under the upholstery. It's the upholstery that makes it very cozy and comfy.
#2. Memory Foam Mattress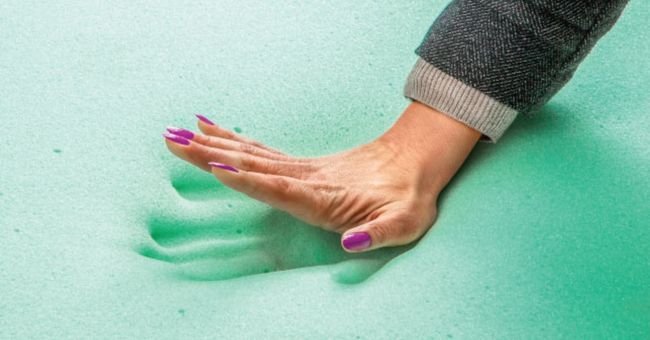 Memory foam mattresses are often expensive, but the benefits they provide are worth it. The mattresses are considerably heavier and denser, and it's the density and the memory foam itself that makes them so comfortable to sleep on.
#3. Latex Mattress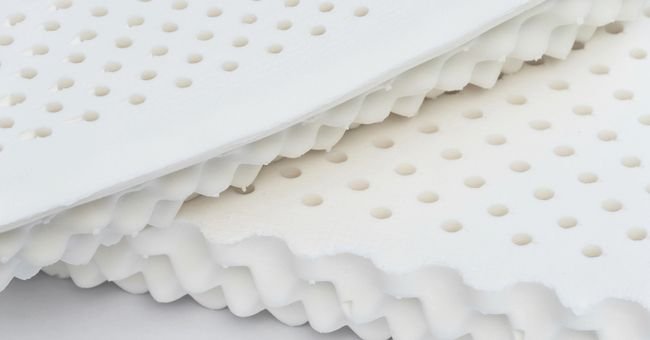 Latex mattress uses latex foam instead of coils to help support your body weight. The material is breathable and a great conductor to disperse body heat. There are different kinds of latex: natural and synthetic. Many choose the latter because not only is it more comfortable, but it lasts a long time.
#4. Hybrid Mattress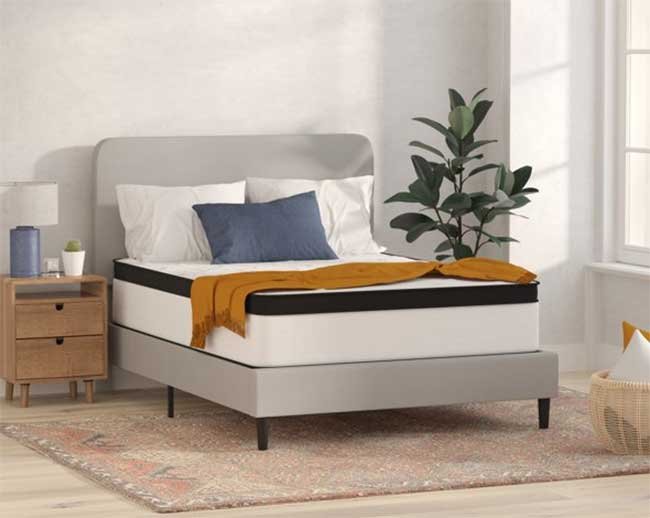 Hybrid mattresses are a combination of individual pocket springs and memory foam. These mattresses are best suited for people who enjoy bounciness and that 'melt into the foam' feeling in bed. A hybrid mattress provides better support than a standard memory foam mattress.
Hybrid Mattresses as it takes the best out of both and doesn't sacrifice any performance.
#5. Foam Mattress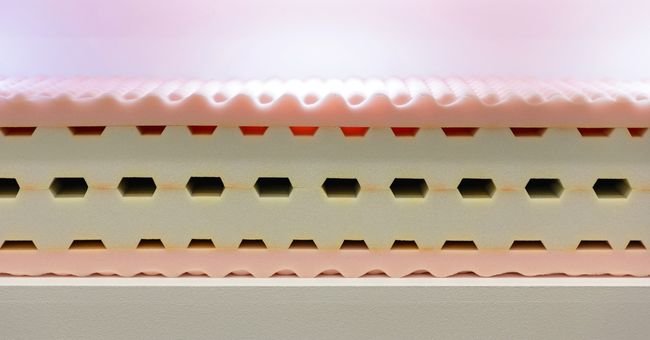 A foam mattress is known for its ability to provide relief from pressure aches and pains in the body. In fact, it was first created for hospital patients in order to protect, cushion and comfort them. A foam mattress also cushions the outline of the body, in order to let the spine stay in a neutral position while you sleep.
Whether you go for a Memory or Visco, all foam mattresses are hypoallergenic and are manufactured with very low Volatile Organic Compounds (VOC). It is also easy to maintain them. Simply rotating your mattress a few times a year and vacuuming it can prolong its lifespan.
#6. Air Mattress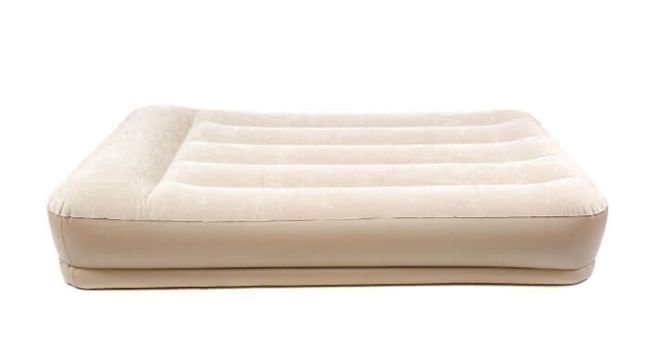 An air mattress lets you customize the mattress to your preference – firm or soft. If you want to change it, that is also easy. Just with a press of a button, you can fill the mattress with more air and increase the firmness of the bed.
Air mattress gives off no bad odor. Most importantly, you can eliminate the issue of 'sagging' in an air mattress. You just have to inflate the bed more for more firmness. It is also one of the most affordable mattresses and it can last a long time if you take good care of it.
#7. Gel Mattress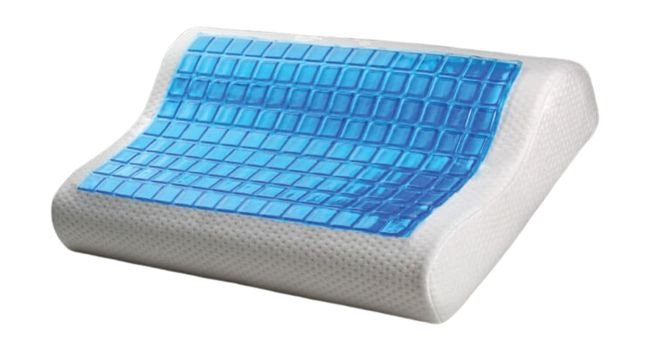 A gel mattress is as reliable and comfy as memory foam mattresses. It resists motion transfer so your partner's movements in bed won't disturb your sleep. The addition of gel particles in the gel mattress generates air circulation through the mattress, keeping it cool.
It also prevents you from sinking into the mattress.
#8. Waterbed Mattress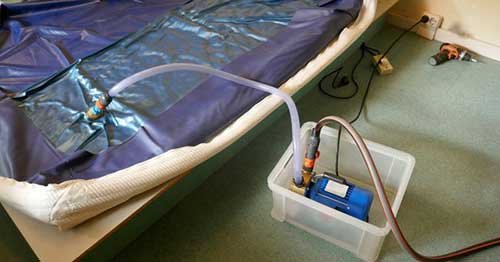 A waterbed mattress is filled with water, originally introduced for medical therapies. For this reason, this mattress is well-known for providing relief from back, neck and joint pain. Being able to adjust the warmth of the water, and therefore the mattress helps heal orthopedic pain.
Additionally, people with asthma, eczema and other allergies can benefit from using waterbed mattresses. It can also isolate your partner's movement when you're sleeping together so your sleep isn't disrupted.
#9. Adjustable Mattress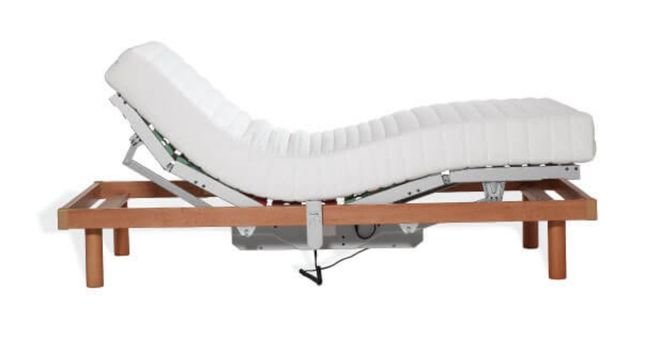 An adjustable mattress has a multi-hinged surface and can be adjusted to different positions. These mattresses were common in hospitals. The elevated mattress lets people with asthma, sleep apnea, and snoring problems and help sleep through the night with ease.
The mattress can be set up to improve blood and oxygen circulation in the body. The adjustable mattress is suitable for people with a leg injury, impaired mobility, acid reflux, chronic pain, arthritis and back pain. It is also recommended for pregnant women.
#10. Pillow Top Mattress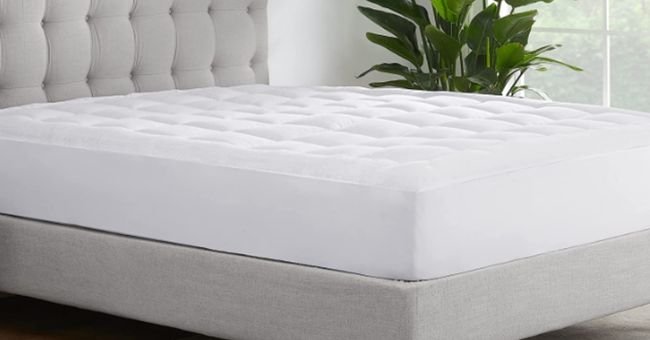 Pillow top mattresses are some of the finest mattresses on the planet. These mattresses easily adjust to the various pressure points of the body. The extra cushioning below your head offers excellent spinal support.
These mattresses don't need to be turned every two years. It returns to its original form after every night's sleep.
#11. Organic Mattress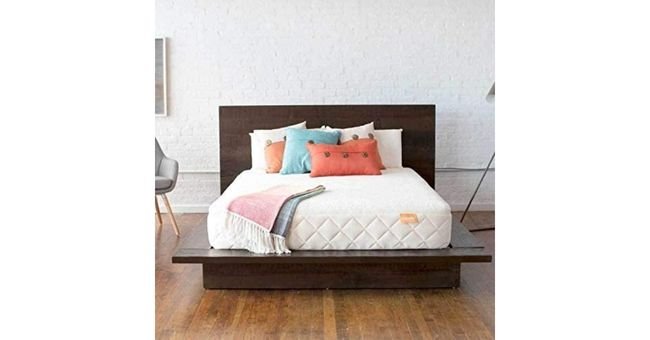 An organic mattress is the best natural mattress. It is made from organic wool, organic latex or organic cotton, and is manufactured without using any chemicals. It is durable, biodegradable and hypoallergenic.
An organic mattress is composed of all organic components, and thus, is the healthiest investment for platform beds. Organic latex regulates the temperature of the mattress. It also has a longer life expectancy than a synthetic mattress.
Materials Used to Make Mattresses for Platform Beds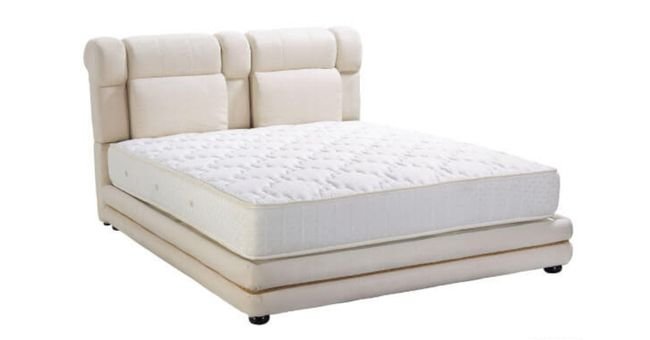 You've now learned about the different types of mattresses available on the market right now. Read on to find out more about what materials are used to make your favorite mattresses.
Polyurethane Foam
It is certainly not the best ingredient for making a mattress. It is highly flammable and may contain VOCs. The foam is made of a petroleum base and may cause pollution. However, it is soft and provides adequate support.
Memory Foam
Memory foam is one of the best inventions ever made. It provides support, relieves pressure points and regulates temperature to keep itself cool. The higher the density, the higher its durability. Unfortunately, it contains toxic chemicals such as MDA, Vinylidene Chloride, fire barriers, and adhesives.
Steel Coils
Steel coils are used to add support at the lower layer of the mattress. They can be open coils or individually pocketed coils. However, they can be noisy.
Latex
A mattress can be made of any of the following latex materials:
Natural Latex
Natural latex is obtained from rubber trees. It is synthesized with antioxidants and ammonia for preservation. Additives such as gelling, foam and curing agents may be used to make the mattress.
Synthetic Latex
Synthetic latex is produced in the lab using petroleum-based materials. It is less dangerous than Polyurethane but smellier. That is why only OEKO TEX 100 certified synthetic mattresses are safe to use.
Blend Latex
Blend latex can be made from any of these materials: polyurethane, gel, latex or memory foam. It supports your pressure points but retains heat in the mattress. It has a bad odor since it is made using toxic chemicals and VOCs.
Wool
Wool retains air, hence mattresses made out of wool allow air circulation. It is resistant to water, but vapor can flow in and out. Usually, it is naturally obtained.
Cotton
Cotton is also derived naturally. Mattresses made out of cotton are breathable, dust mite resistant and long lasting. It makes the mattresses soft and plush.
Benefits of Using the Right Mattress for Platform Beds
You can use any type of mattress with a platform bed. So, depending on your preferences, health conditions and needs, it is all about picking the right mattress for your individual needs. Below are a few benefits you will enjoy when you have the right mattress for your platform bed:
Correct Alignment of the Spine
When you sleep, your spine must be well supported, aligned and relaxed. The right mattress will give you comfort and support good posture while you sleep. This is very important for people with chronic back, neck or shoulder pain.
Even Weight Distribution
The right mattress must be able to distribute your weight evenly. That way, the mattress won't sag or sink after you've been using it for a while. It is also bad for your back, spine, and neck if the mattress is unable to do so.
Deep Relaxation
No matter how expensive and high-rated your mattress is, if you're not comfortable lying on it, there is no point in buying it. The right mattress should be able to relax both your body and mind so that you wake up every morning feeling rejuvenated.
Superior Performance
How well your day goes the next day depends on how well you slept the previous night. So, having a good night's sleep will improve your performance at school and work. It will also keep your mood uplifted throughout the day.
What Makes the Best Platform Beds Mattress?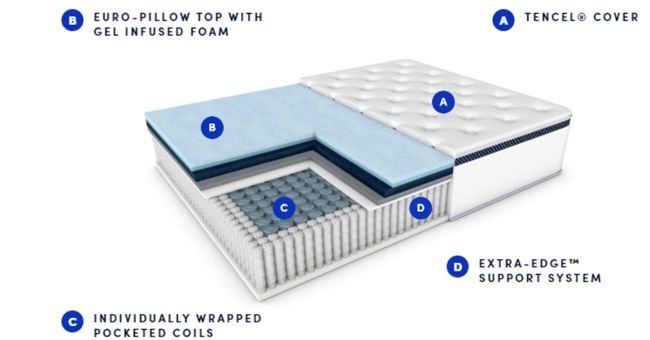 Here are a few things you should consider before you buy the right mattress for your platform bed:
Type
Although platform beds can hold any type of mattress, the three types of mattresses illustrated below are the most popular:
Innerspring Mattress
Innerspring mattresses have coils at the base of the mattress, combined with memory foam at the top. This mattress is very soft, comfortable, and airy, and it provides relief to your pressure points.
Memory Foam Mattress
A memory foam mattress is the most popular selection for customers with a platform bed. It has all the properties of the innerspring mattress without the coils at the base. Additionally, memory foam mattresses allow motion isolation, so that couples can sleep in peace.
Latex Mattress
Latex mattress requires a strong foundation. It is heavier than an innerspring or memory foam mattress. If you want to use a latex mattress, make sure the slats are not too wide apart, as that may cause your mattress to sag.
Thickness
The thickness of the mattress is very important. Since all mattresses deflate after long term use, it is better to purchase mattresses that are 10 to 12 inches thick. However, thinner mattresses are preferable for the sick and the old.
Durability
Natural latex mattresses last the longest, about 12 years. Meanwhile, high-density memory foam, waterbed and blended latex mattresses can last for 10 years. Innerspring mattresses with coils last for about five years.
Temperature Control/Airflow
High density, medium density or low-density memory foams are the airiest and the coolest to sleep on. Gel, latex, organic and waterbed mattresses also allow temperature control and airflow.
Support
Adjustable mattresses can give support to any part of the body. All you have to do is adjust the mattress. Memory foam, hybrid, and waterbed mattresses can provide support to the entire body without any adjustments.
On the other hand, pillow top mattresses keep the spine in proper alignment while you sleep.
Comfort
Hybrid, memory foam, gel, air, waterbed, and organic mattresses are all comfortable. A hybrid mattress may not be too comfortable for some people, as it has springs attached at the bottom. In addition, some people may not like bouncy mattresses.
Size
You can choose your mattress in seven different sizes – King, California King, Queen, Full XL, Full, Twin XL and Twin. King, California King, and Queen sized mattresses are perfect for couples. On the other hand, Full XL, Full, Twin XL and Twin sized mattresses are for singles.
Full XL and Twin XL are extra long for taller people or those with pets.
Warranty
Most mattresses will come with a 10-year warranty. Some can even give you a 20-year warranty. The best will give you a lifetime warranty.
Affordability/Price
Despite all the good features, you also need to budget. All the products listed above are good quality products. If you want to spend wisely, you just have to choose the most affordable one for you.
Trial Period
Some companies will give you 'trial period' offers. Make sure you take advantage of that, as it is the best way to figure out if the purchased mattress is really the right one for you.
Additional Products
Here are some more options of mattresses for platform beds that you choose from. Carefully read the product details, pros, and cons of the mattress that you wish to buy.
#11. Dreamfoam Bedding Arctic platform mattress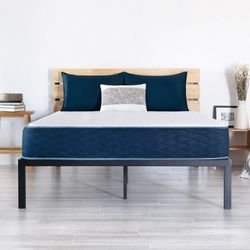 Overview
On a scale, it is possible to rate Dreamfoam Bedding Arctic Dreams 10-Inch Cooling Gel Mattress as a mattress that provides medium comfort. The comfort level is managed by the porous foam infused with cooling gel.
The gel beads allow air to flow into and out of the mattress, allowing it to stay cool all around the day.
The soft quilt is 7.5 inches, and the Energex Gel Memory Foam occupies 2.5 inches of space in creating the triple-layered cooling gel mattress. Made in the USA, the product comes with a 10 to 20 years warranty. The best part of the product is that it helps to keep your body cool all through the night.
Dreamfoam Bedding Arctic Dreams 10-Inch Cooling Gel Mattress has been made with high-quality materials by the best talents in stitching and designing.
What We Love About It
We love this gel mattress because it is CertiPUR US certified, meaning it is made without phthalates, formaldehyde, lead, mercury, heavy metals, TDCPP, PBDEs and other ozone depleters.
Pros:
Available in eight sizes.
Available in two types.
Has a warranty of 10 to 20 years.
Gel fused, breathable, foam mattress.
CertiPUR US certified.
Cons:
The new model may be too hard for some people.
Not recommended for people with allergies, asthma and respiratory issues.
#12. Perfect Cloud UltraPlush platform mattress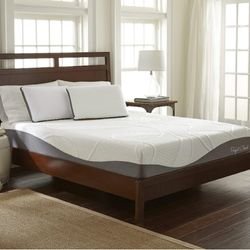 Overview
Manufactured with materials from BASF Germany, Perfect Cloud UltraPlush Gel-Max Memory Foam Mattress is perfect for everybody, no matter what is your usual sleeping position. Also, no matter your weight, 40 or 400 pounds, the ultra responsible foam supports and pampers you throughout the night.
Additionally, this platform mattress was designed without lead, mercury, heavy metals, PBDE flame retardants, formaldehyde, phthalates, and ozone-depleting elements. Even people with allergies and respiratory issues love this product.
Some customers even reported their experience with Perfect Cloud UltraPlush Gel-Max Memory Foam Mattress as 'cloud-like'! Considering the customer experiences, long term warranty, cost-effective pricing, and health benefits – this product is undoubtedly one of the best out there!
What We Love About It
This product uses the Mesh Gusset Air-Transfer Technology that promotes the breathability of the mattress and keeps it fresh and cool. Besides, the mattresses are made from low Volatile Organic Compounds, which helps regulate the indoor air quality in the room.
Pros:
Available in 6 sizes.
Has a removable knit cover.
Allergenic and dust resistant.
Firm back support.
CertiPUR and Goldilocks standards approved.
Cons:
May not be suitable for some side sleepers.
Not following the proper instructions may cause molds to build up.
#13. Casper Sleep Memory Foam Platform Mattress
Overview
Casper Sleep Memory Foam Mattress does not let its sleepers sink into it. It has been designed with premium latex foam for coolness and bounciness, and with Memory Foam for relaxation and firmness.
Casper became one of the most innovative companies of 2017. The New York Times and Forbes can't stop talking about it!
Open cell foams in this platform bed mattress contain miniature pores so that the hot air from the body can escape while keeping the mattress cool and comfy. The top layers of the mattress provide plushness, and the bottom layer provides durability.
What We Love About It
The mattress does a good job keeping a balanced temperature for maximum comfort during sleep. Even if you sweat at night, this mattress does not trap the heat.
Pros:
Available in 6 sizes.
Available in 8 styles.
10-year warranty.
100 nights trial with 100% free shipping and free return.
Cons:
Not for picky people.
Some people may have an issue with the smell.
#14. Nectar Full Mattress Platform Mattress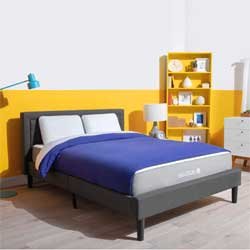 Overview
Nectar Full Mattress can give you relief and comfort to your body while you sleep. It keeps your body cool even on those hot days! People who buy this product from Amazon can enjoy a 180 nights free trial, that lets them return the product if they are not content.
The manufacturers have avoided using all sorts of toxic chemicals, ozone depleters, metal, lead, mercury, TDCPP and PBDEs in manufacturing this special mattress. Plus, it also resists bed bugs!
Made with gel memory foam, this mattress for platform beds distributes pressure evenly and helps relieve pain and exhaustion from your body. You'll be glad to know that this mattress can be used with any bed type – platform beds, floor, adjustable, traditional frames, divan bases or box springs.
What We Love About It
The company is very confident about the quality and durability of this mattress, which is why it has given a lifetime warranty to all its customers! Not only so, but Nectar Full Mattress also delivers optimum comfort, coolness, breathability, and firmness.
Pros:
Available in 6 sizes.
Free 2 premium pillows.
Forever warranty.
CertiPUR certified.
180-day trial available.
Cons:
Some people may not like the smell.
The mattress and the pillows may not inflate as much sometimes.
#15. Perfect Cloud Elegance Platform Mattress
Overview
Perfect Cloud Elegance Memory Foam Mattresses are made from superior quality, resilient materials and are suitable for platform beds. The company prides itself on selling its mattresses for price three times less than that of its competitors.
The top 1 inch of the foam is HD Air Infused Memory Foam. The Second layer is 1.5 inches of regular Air Infused Memory Foam. The third layer is 2 inches of Gel-Pro Memory Foam. Finally, the fourth layer is built with 7.5 inches of HD Base Support Foam.
Manufactured with materials from BASF Germany, the 12-inch thick mattress is allergenic and dust mite resistant. The company has generously given away a premium quality knit cover with every purchase as well.
What We Love About It
The mattress is quite thick – it is 12 inches with double layers of Visco Gel! In fact, it is so soft, many customers explain their experience using this mattress as 'cloud-like'.
It is suitable for all types of sleepers and it can accommodate anybody, from 40 to 400 pounds.
Pros:
Luxurious fabrics.
Suitable for all types of sleepers.
Available in 5 sizes.
Comes with a 30-day trial.
10-year warranty.
Cons:
May sag after long term usage.
May not be suitable for people with back pain.
#16. LUCID Inch Plush Gel
Overview
One of our favorite picks available on the market is the Lucid 16-inch plush gel Memory Foam and Latex mattress. The latex and memory foam layers perfectly align with the body to provide maximum support and comfort.
The natural latex provides a resilient feel and the responsive memory foam evenly compresses under body weight. The 10-inch support layer is exceptional at providing ultra-plush comfort and the open cell technology prevents long-lasting body impressions.
This bamboo charcoal memory foam makes a perfect companion to your platform bed. In addition the quilted, breathable, Tencel blend cover ensures longevity.
What We Love About It
Certified by CertiPUR-US, it comes with a 25-year warranty and has perfect construction.
Pros:
Well-ventilated
Breathable
Higher comfort
Hypoallergenic
Resistant to dust mites
Cons:
Maybe too soft for some users
#17. Sleep Innovations Alden
Overview
Sleep Innovations Alden 14 inch Memory Foam Mattress is so comfortable that you will fall deeply asleep immediately. This platform bed mattress is perfect for side sleepers and for people with average body weight. It comes with a handcrafted tufted cover.
It cradles you with a TriComfort Design, which includes SureTemp Memory Foam at the top, airy middle and premium foam support at the bottom. The comfortable foam aligns your spine and soothes all the pressure points in your body.
What We Love About It
The company has been researching about sleeping habits of people, how they sleep and about their best comfort experience for over 20 years.
Because they understand that one size never fits all, they have come up with Sleep Innovations Alden 14-inch Memory Foam Mattress for ultimate luxury and comfort.
Pros:
Available in 5 sizes.
Available in 2 sizes.
20-year warranty.
Tufted cover.
Cons:
May not be suitable for some people.
Maybe too firm.
#18. DreamFoam Ultimate Dreams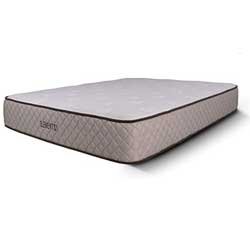 Overview
DreamFoam Mattress Ultimate Dreams Firm Latex Mattress has three levels of firmness – firm, medium and soft. The comfort levels can be customized according to your desire. It is made in USA with superior quality materials.
It also has a certain level of softness and supports any sleeping position you might take. Made of Talalay Latex and a high-density base foam that contours to your body, it offers the perfect support. The mattress also promotes blood circulation of the body so that you can wake up fully charged every morning.
What We Love About It
Though this mattress is suitable for any type of bed, we recommend this, especially for your platform beds. Made of breathable, hypoallergenic material and resistant to humidity, this latex mattress is the best for your platform bed.
Pros:
Available in five sizes.
Available in three styles.
Has a bamboo cover.
Made of Talalay Latex and High-Density Base foam
CertiPUR US certified.
Cons:
May wear out easily.
May not be suitable for some people
#19. Linenspa 10 Inch Latex Hybrid Mattress
Overview
Made with 4 layers of foam and hybrid Latex materials, the mattress sizes up to 10 inches to give a 'medium-firm feel'. It is suitable for naughty kids and zestful pets, so you can have this mattress in any room of the house.
Linenspa 10 inch Latex Hybrid Mattress is built with foam mattress and best quality coils enable superior motion isolation system. That means, no matter how restless your partner or kids are, you can sleep through the night effortlessly!
Carrying this mattress around is also easy. You only need one or two helpers to set the mattress wherever you need it to be.
What We Love About It
Produced with natural Dunlop latex, this hybrid mattress is soft and responsive. Its hybrid nature prevents the mattress from getting too hot so that you can sleep through the night with ease.
Pros:
Available in 6 sizes.
10 year US warranty.
Hybrid design.
Suitable for all types of sleepers.
20% natural and 80% Synthetic Latex.
Cons:
The springs may be uncomfortable for some.
May sink down if not set properly.
#20. Sweet Night Mattress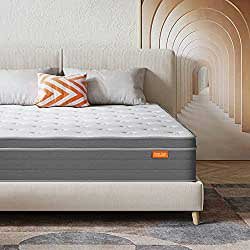 Overview
This is a hybrid mattress constructed with superior quality carbon steel springs and Gel Memory Foam. The mattress prevents sagging and keeps itself cool. It is made up of natural ingredients without mercury, lead, formaldehyde and other toxic materials.
The inner springs are made of carbon steel, which obstructs the formation of rust and corrosion. These coils can also adjust itself independently whether any pressure is applied to it or not.
What We Love About It
Sweet Night mattress is a hybrid mattress designed for platform beds. It provides full support to the body, allows motion isolation and gives comfort no matter how you sleep on it.
Pros:
Available in two sizes.
Solves five common sleep problems.
Has a warranty of 10 years.
Includes motion isolation feature.
CertiPUR US certified.
Cons:
Must not sleep on the same spot every night.
May not be suitable for some people.
Conclusion
Now that you know which mattresses for platform beds are ruling the market, taking the right decision is easier than ever. In case you're still confused and looking for instruction on buying the right mattress, remember our descriptive buyer's guide is there to guide you.
So scroll up, read it again, think carefully of your preferences and click on the order now button of the mattress that suits you the best. Hope you have a great time shopping! Thanks for reading this article. Check out petdogplanet.com for product reviews.