It takes a lot of prep to get a home ready to welcome a baby to the family. For some parents, it can feel quite overwhelming, as if there is a neverending to-do list.
Many parents look forward to buying tiny clothes and other cute things… but a crib mattress? Not so exciting.
However, a crib mattress is one of the most important purchases parents make when it comes to setting up a nursery.
Heartuback has compiled a list of the best crib mattresses on the market. This guide will hopefully make it easy for parents to get the best possible baby crib mattress for their bundle of joy, and save a lot of time in the process.
Importance of a Good Crib Mattress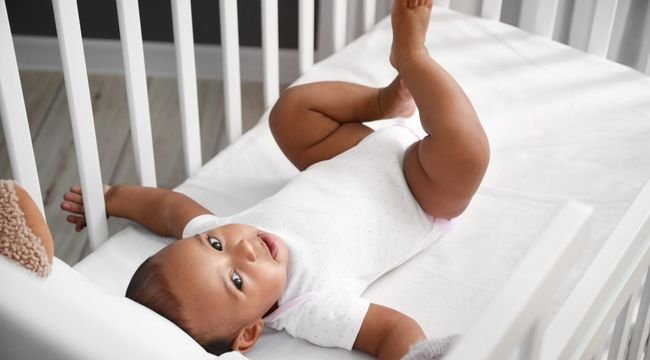 Infants spend over 16 hours a day in their crib. So when it comes to their safety and comfort, you need the best crib mattress.
A good mattress is important for two reasons:
It will make your baby's time in the crib much more comfortable
It will provide the necessary support for their growing bodies and bones.
The National Institute of Child Health & Human Development reports that using a hard mattress, as opposed to a soft mattress, is one of the key factors in helping prevent SIDS (Sudden Infant Death Syndrome).
So really, why even think twice? It's vitally important to your baby's well-being.
Related Post: Best Latex Mattress Toppers
Types of Crib Mattresses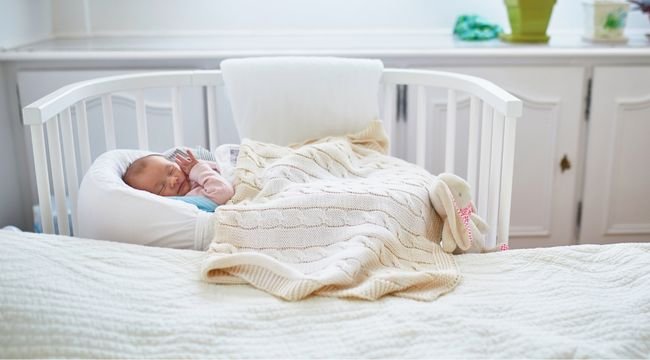 There are two primary types of materials used to make baby crib mattresses: foam and innerspring. But which one is better? Check out the differences and see for yourself which one suits your baby best.
#1. Foam Mattresses
Foam mattresses are popular because they're very affordable. They are made from polyurethane—a standard material in foam mattresses. They're lightweight and all-around easier to use.
Although their edge support can be a concern, they are trusted by countless parents.
#2. Innerspring Mattresses
Innerspring mattresses are heavy and expensive, but they come loaded with benefits. The increased weight of the mattress depends on the number of coils of springs. More springs equal a firmer, heavier mattress.
It's also wired at the edges to keep them from fraying or falling apart. Innerspring mattresses are a popular choice amongst many parents.
#3. Organic Mattresses
Some parents want to "go green" and use organic products for their babies, for everything including mattresses. There are a really only a few organic products on the market and it can be very confusing.
Some manufacturers have been taking advantage of this confusion and misleading many parents.
Besides these three key points, there are some models made with a weird cotton-like junk that gets ruined easily. We will NOT be discussing those versions as they really aren't a good option for your baby or your money.
Related Post: Best Mattress for Platform Beds
How to Choose the Best Crib Mattress for Your Baby?
A crib mattress plays an important role in the comfort and growth of your baby. To get the best crib mattress, you'll have to figure out it the features and qualities suit your baby's needs.
Here are a few things to keep in mind:
Size
While most baby crib mattress comes in standard sizes, it's always a good idea to double check! The standard crib mattresses measure 27.5" wide (brands vary the width by 0.25"), 52" long, and 5-6" thick. Don't confuse cribs with pack n plays or bassinets—they are completely different.
Firmness
As a general rule of thumb, a firmer mattress is better. Soft mattresses might seem more comfortable, but in reality, they aren't safe options for your baby.
Your baby needs a firm mattress in order to be able to move; a soft mattress will actually be too cushy, making it difficult for your baby to move. An ideal supportive mattress will reduce the risks of SIDS.
Comfort
Babies can sleep on anything, I'm sure you've noticed that. The comfort factor comes into play when your baby is entering into the "toddler" stage.
This is where a dual-sided mattress come into play. You just have to flip it over when your child is ready to make the transition.
Breathability
Imagine your child sleeping under a blanket and the room gets too hot. Your child will start to overheat and sweat, which is another contributing cause of SIDS.
So, take the breathability levels of a mattress more seriously. Many companies claim that their beds have temperature control features, the reliable ones are only 20-25 seconds.
Cleaning
Babies will create loads of messes on the mattress – it's unavoidable. So make sure the mattress you choose has a cover that's both waterproof and machine washable. The vinyl ones are the best but removable covers also have their uses.
Related Post: Best Mattress Toppers for Side Sleepers
Best Baby Crib Mattress Reviews
In this section of crib mattress reviews, we will be talking about pros and cons of each crib mattress. We will also talk about the key features. Keep on reading to make an informed decision before you buy the crib mattress for your baby.
#1. Safety 1st Heavenly Dreams- Best crib mattress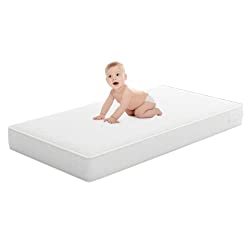 When it comes to budget crib mattresses, nothing beats Safety 1st Heavenly Dreams. It's a firm and comfortable mattress. The vinyl cover is waterproof, so it offers great protection from stains and spills.
Although it's a foam mattress, it keeps a good shape even after years. The high-density, thermo-bonded foam ensures it maintains its shape. It's light because it doesn't have any springs, and as such it's super easy to wash and change sheets.
The only downside of this mattress is the make—it's made from non-organic polyurethane.
Related Post: Best Mattress Topper for Back Pain
#2. My First Crib Mattress- Best baby crib mattress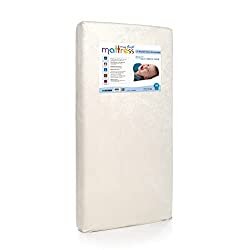 My First is a popular choice among parents because of its 10-year limited warranty. It's also one of the very few mattresses that supports a memory function. Not only is it CertiPUR-US certified; it's also mite-proof, antimicrobial, hypoallergenic and phthalate & lead-free.
The cover is machine washable and easy to remove. The high-density foam is supportive, even for big babies and toddlers. The heat retention of this mattress is superb and it only takes 7-seconds to cool down.
All these features come with a reasonable price tag. And although many parents worry about memory foam being heavy, this only weighs 11 lbs.
#3. Sealy Soybean Foam-Core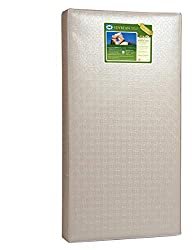 Sealy Soy Core is a healthy, earth-friendly and non-toxic mattress. It doesn't use flame-retardant chemicals, so you don't have to worry about harsh chemicals against your baby's skin.
The mattress is a little firm, but breathable—a great advantage in the summer months. With waterproof and stain-resistant technology, the cover itself can be wiped down easily. It's lightweight and changing sheets is a breeze.
The cover is made from 73% polyurethane and 27% soy foam. Although many people avoid options containing polyurethane, it's safe, making this a great pick in crib mattresses.
Sealy also has a cooling mattress pad for the crib. They are affordable and really, should be considered a necessary buy for mattresses that takes a long time to cool down.
#4. Colgate Eco Classica III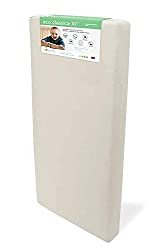 Don't confuse this with the company that makes toothpaste! It's a separate company and just happens to make one of the best baby crib mattresses on the market.
The Eco Classica III is a dual-sided mattress that can be used as a toddler bed once they get too big to stay in a crib. It weighs about 10 pounds and is light enough to change crib sheets with a single hand.
The cover is made from 100% certified cotton and the inner part is made from a plant-based foam. Also, unlike many options, this mattress is scent-free.
#5. Newton Wovenaire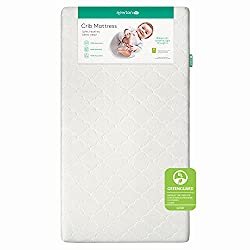 Newton Wovenaire is one of the top-rated baby crib mattresses on the market. It has won several awards like the JPMA innovation award and it's Green guard Certified.
The 11-pound mattress is made from woven food-grade polymer. The mattress is unique with a combination of 10% polymer & 90% air, which is pretty awesome. It doesn't have biocides or toxic fire retardants, so it's gentle for contact with your baby's skin.
The entire mattress is washable—it's probably the most brilliant feature of the mattress! Wovenaire is an amazing, breathable and organic mattress. The only downside: some parents might find the price tag to be a bit beyond their price range.
Final Thoughts
We highly recommend buying a new mattress; don't get a used or hand-me-down mattress. Not only it's unsanitary, it can be full of dust mites which can do more harm than good.
It's obvious, there can't be any cutting corners when it comes to your baby. The selections above have been thoroughly researched; we've provided options at a variety of price points.
So, make the right choice for your baby s because there are no words that can describe the feeling you get when you see your baby sleeping peacefully.