Personally, I think side sleepers have the worst luck when it comes to mattresses. As a side-sleeper, I can tell you from personal experience that it's nearly impossible to cover all the comfortable pressure points. Most nights, we toss and turn trying to settle in in hopes of finding the best sleeping position.
Sadly, this sometimes takes all night, and we wake up feeling horrible and exhausted.
Heartuback is here with the complete guide to the best mattress for side sleepers – the solution to all your worries.
Read on to find out more about the best mattress toppers for side sleepers and our top 5 recommendations.
Best Mattress Toppers for Side Sleepers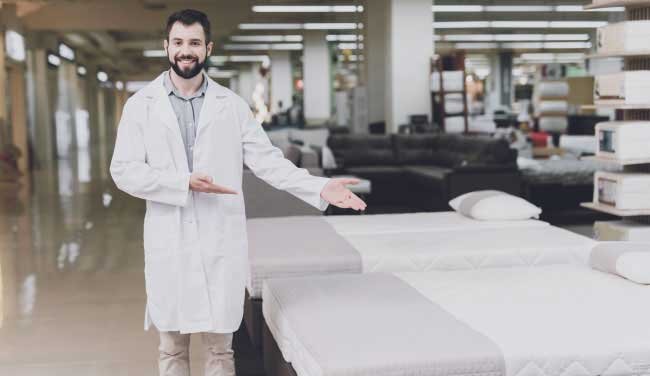 Choosing the right mattress topper for side sleepers can be a little overwhelming. There are thousands of options on the market, each with their own set of pros and cons.
The toppers shown here are carefully researched depending on the feedback of customers suffering from back pain.
#1.Memory Foam Visco Elastic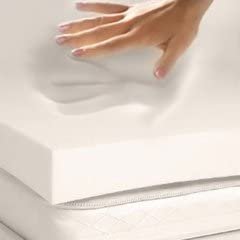 This 3-inch memory foam mattress topper from Memory Foam Solutions is not only great for side sleepers, but it's actually beneficial for all sleeping positions.
It's PURGreen-certified and environmentally friendly. It only weighs 4-pounds and is made in the USA. The mattress is highly recommended as its great at supporting the natural shape of the spine.
Pros:
First-class support for side sleepers
Helps to prevent pelvic rotation
Cool memory foam
10 Year warranty
CertiPUR-US certified
Cons:
Complaints of temporary odor
#2. SleepJoy ViscO2 Ventilated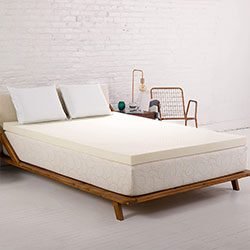 Similar to Memory Foam, SleepJoy also provides a 3-inch memory foam for side sleepers. Its Visco2 memory foam is breathable and gives you a (literally) cooler sleeping experience.
The foam provides a cradling as it effectively absorbs the pressure from your hips, shoulders, and buttocks. Additionally, the foam has no odor and can be used instantly after purchase.
Pros:
Breathable open-cell memory foam
Plant-based ingredients used in manufacturing
Absorbs the pressure o when sleeping on your side
Prevent you from tossing and turning
Cons:
2-year limited warranty
Some complained about the softness of the foam
#3. Advanced Sleep Gel Memory
Advanced Sleep Solutions has another great memory foam mattress toppers for side sleepers. The foam is only 2-inch thick, but it's great at relieving pressure and helps support the proper alignment of your spine.
Not only does it provides great support, it's also affordable. Additionally, the gel memory foam is great at dispersing heat, keeping you cool during the night.
Pros:
Open cell gel memory foam structure
CERTIPur-US certified
3-Year manufacturer warranty and 60-day money back guarantee
Cons:
Topper becoming lumpy after a period of time
#4. Langria CertiPUR-US Hypoallergenic
This Langria mattress topper is great for side sleepers as the gel-infused memory foam helps you avoid any pelvic rotation, which can be a contributing cause to back pain. It's also dense enough to maintain your position while sleeping.
The topper comes with a bamboo-fibered zipper cover. In addition to keeping you cool, the cover is hypoallergenic, machine washable and provides protection against bed sores.
Pros:
Washable Bamboo fabric removable cover
Gel-infused memory foam
Reduces the pressure on your body's pressure points
CERTIPur-US certified
Cons:
Divided opinion on the foam being too hard and too soft
#5. Zinus Night Therapy Pressure Relief
Zinus mattress is 4-inches in thickness, but it's a build-up of various segments. The top 0.5 inches is made up of a fiber quilted cover; the next 2-inches is made up of 2-inch memory foam which provides a very comfortable sleeping experience.
The final 1.5-inches is made up of pressure-relieving comfort foam. In addition to being great at relieving the pressure, it also compensates against any holes or sagging. All of the foam used is certifiably free from any toxic materials.
Pros:
Quilted memory foam mattress
CertiPUR-US certified
5 Year warranty
Cons:
Some buyers reported odors coming from the mattress after use
Side-Sleepers?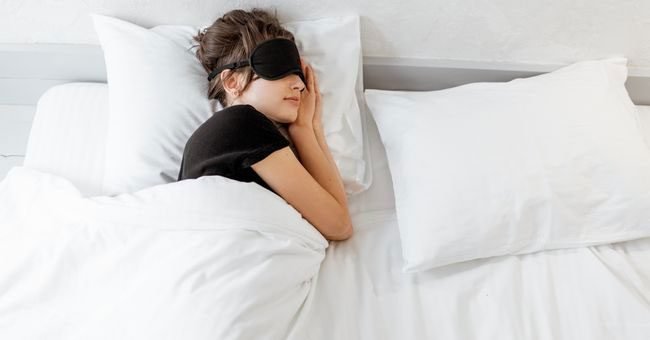 According to WebMD, almost 63% of Americans sleep on their sides—the rest is a mix between back sleepers and stomach sleepers. You need to remember that sleep positions change over time, but for the most part, many people end up sticking to their natural go-to position.
The American Chiropractic Association highlights that side-sleeping can greatly improve issues of back pain. They also recommend that you place a pillow between your legs when you sleep on your side.
However, sleeping on a bad mattress or average mattress topper will do more harm than good, no matter which position you feel comfortable sleeping.
That's why getting the best mattresses and best mattresses toppers for side sleepers is essential if you want to obtain the seemingly ever-escaping sleep nirvana.
Best Side Sleeper Mattress Toppers Checklist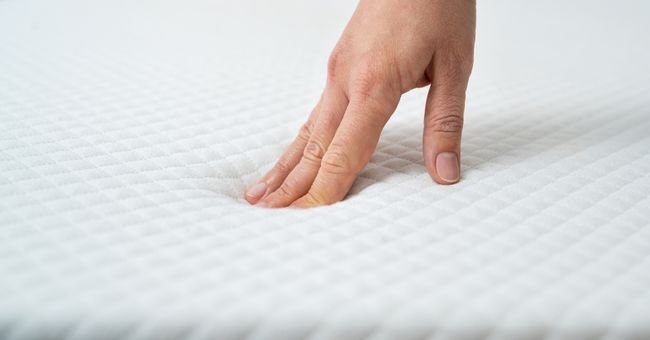 There are so many differences between side sleepers and back sleepers, which is why you need to understand what makes a good mattress topper for side sleepers.
Remember that the problem might lie in your mattress and instead of changing it, you can opt for a way that's more efficient and less expensive. Getting a mattress topper, if you choose the right kind, will easily solve your side sleeping dilemma.
Here's what you should pay attention to:
Material
There are many materials to choose from when selecting a mattress topper for side sleeping. Most common toppers are made out of latex, feather, memory foam and wool toppers. Materials play an important role in selecting mattress toppers.
Thickness and Density
When selecting mattress toppers, thickness and density matter a lot. The thicker the mattress, the firmer it will be. It will also last you a long time. Toppers with higher-density foam will feel a lot harder on your back than lower density alternatives.
Size and Dimensions
Before ordering a mattress topper, you should always measure your bed and mattress. Most mattress topper makers have different sizes available, so make sure you get the one that fits your bed.
Health and Environment-friendly
Get a mattress topper that's free of any VOCs (Volatile Organic Compounds) and heavy metals. This is essential if you want to avoid allergies and other health problems.
Odors and Smells
Unfortunately, some mattress toppers an unpleasant odor when opened. But don't worry, they usually fade away within a few days. There are companies that promise "odor-free" mattress toppers, but you should always check for yourself before making a commitment.
Conclusion
There you go, our complete guide to the best mattress toppers for side sleepers to help you limit or even get rid of any sleep discomfort.
Before making a purchase, make sure you follow-up with your own research on mattress toppers. After all, it is "good sleep" we are talking about here, which is essential for proper functioning throughout the day and more importantly for your overall well being. Thanks for reading! Please read our other blog; weimaraner silver lab