After a long day's work, nothing sounds more inviting than a comfy bed and getting a good night's sleep. However, not all of us get to enjoy that luxury.
The main reason for this is none other than the mattress itself! Your mattress may not provide the desired level of comfort due to it being old, lumpy, or worn down.
This is where mattress toppers come to your rescue. Toppers have a wide range of benefits in addition to providing you with the feel and comfort of a brand new mattress.
We have listed a few reasons why mattress toppers are worth the extra cost and why you should consider getting one.
Understanding Mattress Toppers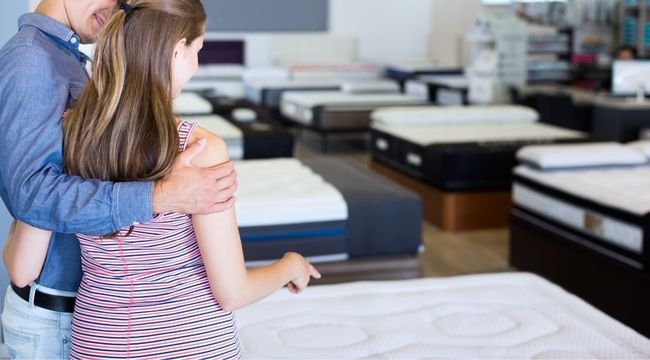 Did you ever notice a foam-like cushioning on top of a mattress? That's a mattress topper. It's there to provide extra comfort when you sleep and safeguards your mattress by adding that extra layer of protection.
Mattress toppers are available in various thicknesses and materials. They are also available in all sizes and in different designs.
What are Mattress Toppers Used for?
You might be wondering right now what the purpose of a mattress topper is. You already have a mattress, so what do you need a mattress topper for, right? Well, we'll explain the benefits of a mattress topper below:
1. It Keeps You Cool During the Summer and Hot in the Winter
Mattress toppers come in all sorts of breathable fabrics and designs. They often help retain the heat during the winter, and they keep you warm and snuggly.
The fine threadwork of mattress toppers keeps them lightweight and gives you the feeling of sleeping on air. Therefore, this unique quality of mattress toppers makes you feel cool and relaxed during the summer.
It also doesn't make you sweat at night, ensuring a good night's sleep.
2. It Protects your Mattress from Stains
Do you often spill your tea or coffee on your bed? No worries. You have your mattress topper protecting your expensive mattress from the stains.
Mattress toppers are washable and easier to clean, compared to a whole mattress. It works as a shield from dust, as well as protects your mattress from tears and damage.
3. It Provides Added Comfort and Support
Who says 'no' to extra foam? More foam means better comfort.
A mattress topper helps add that extra layer of coziness. It adds just the right amount of firmness to a stiff mattress, making it much more comfortable for you without the paycheck of having to go and buy a new, more comfortable mattress.
4. It Increases Mattress Life
As mattress toppers protect your mattress from wear and tear, stains and spills, it gives more life to your current mattress. You will not have to replace your mattress as frequently as the topper prolongs the life of your mattress.
It might seem like an extra expense, but it is definitely worth it in the long run. Mattress toppers are cheaper than buying a new mattress. So, having to replace the topper is a far cheaper alternative to changing the whole mattress altogether.
Additional Read: Best Mattress Toppers for Side Sleepers – Reviews & Tips
How Many Types of Mattress Toppers are There?
There are plenty of mattress toppers available on the market, but some are quite popular in terms of design and materials. They give you that extra snuggle and help your body to relax.
1. Memory Foam Mattress Toppers
If you want added support for your back while you sleep, memory foam mattress toppers are your best option. They adjust really well to your mattress and helps you sleep like a baby.
2. Egg Crate Mattress Toppers
Do you know what an egg crate looks like? That's exactly how egg-crate mattress toppers work. They are usually fluffy and padded, providing an extra layer of comfort. They are easy to carry and are relatively cheap too.
If you are looking for comfort at a cheaper price, we'd recommend an egg-crate mattress topper.
3. Woolen Mattress Toppers
For those who suffer from dust allergies, woolen mattress toppers are best. They are incredibly soft and will not cause rashes or itchiness.
The velvety texture and comfort of these mattress toppers are a bit more expensive. But you always get what you pay for.
4. Latex Mattress Toppers
A rubber-like substance is used to make these mattress toppers, which makes them durable.
They are usually softer than memory-foam mattress toppers, even though they are made of latex. This form of mattress topper is also a good option for those who move around a lot in their sleep.
The latex mattress topper is bouncy, but it is good at absorbing movement – so it doesn't make you feel as though the whole bed is shaking every time your partner moves. Keep in mind that natural latex mattress toppers can be quite expensive.
5. Feather Mattress Toppers
If you'd like to know how it feels to sleep on feathers, we'd recommend trying out a feather mattress topper.
They are luxurious, inexpensive compared to latex or memory foam mattress toppers, and they keep you cool during the summer months.
However, they can be quite noisy and they may not provide enough support for people who suffer from back problems. They may also cause allergies.
6. Polyester Blend Mattress Toppers
Polyester Blend mattress toppers are the cheapest kind of mattress topper. However, because you get what you pay for, you may find that they sleep rather hot, are not as soft as memory foam toppers and they do tend to wear down over time.
All in all, the Polyester Blend doesn't provide the best support, but they still give you the feel of a feather mattress topper at a much more affordable price.
Are Mattress Toppers a Good Replacement for a New Mattress?
No. A mattress topper is not a mattress. It will never give you the complete comfort of a new mattress.
When you come home from work, exhausted and tired, and jump on your bed, it's the hidden springs inside your mattress that will give you support, not your mattress topper. But a mattress topper adds an extra layer of comfort and is a good way to prolong the life of your current mattress so you don't have to buy a new one as frequently.
What are the Benefits of a Mattress Topper?
If you have invested in a good mattress, we suggest you spend a bit more and get yourself a mattress topper. A mattress topper will add an extra layer of comfort and prolong the life of your mattress by protecting it from wear and tear, or from stubborn stains.
1. It Helps You Get a Better Night's Sleep
Mattress toppers provide more coziness by adding an extra layer of comfort on top of your existing mattress. That, combined with the support of your mattress, will help you get a good night's sleep.
2. It Helps Reduce Back Pain
Mattress toppers provide an extra layer of support for your back so that you can get a restful night's sleep.
Mattress toppers are designed to adjust to the shape of your body and to absorb your body movements and make your bed less bouncy. So, if you are suffering from joint pain or back pain, we strongly suggest investing in a memory foam mattress topper.
3. It's Easy to Maintain
Ready for some exercise? Flip your mattress once a week. Just kidding!
To prolong the life of your mattress and to secure the quality of the mattress, experts recommend flipping your mattress once a week.
Thanks to mattress toppers, you won't have to flip your mattress as frequently. Just turn the topper over and you are good to go! Mattress toppers are also very easy to remove and wash.
4. It Has a Multi-Purpose Use
You can use mattress toppers on pull-out beds and fold-out sofas to make them softer and more comfortable.
If you go on holiday, just take your mattress topper along with you and put in on top of your bed to make it more comfortable. 
Conclusion
It's recommended to change your mattress once every five or six years. But investing in a good mattress topper will extend the life of your mattress, putting off the need for a new purchase for a while.
Mattress toppers are really useful and can save you from extra expenses in the long run! They will enhance the feel of your existing mattress, giving you extra benefits such as added comfort and easy maintenance in the future.
Lastly, you should see mattress toppers not as an expense, but as an investment. Thus, we believe it's definitely worth the shot. Happy buying!