One of the best things about owning a dog is that the outside becomes more exciting when you have a furry friend to accompany you out on it.
It can help you maintain a healthy lifestyle and see you tackling things you never thought you would, just to make effective use of your canine buddy's almost limitless energy supply.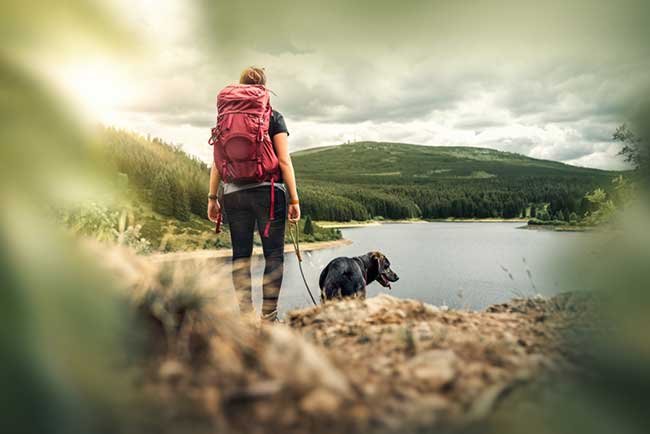 While this might mean just popping into the local park or to the seaside, for others, it may mean a trip to the top of a mountain such as Scafell Pike or Mount Snowdon, for instance.
If you are interested in taking this kind of trip with your dog, you need to be aware of some essential tips – which we have highlighted below.
Plan Your Trip Thoroughly
When you head out hiking on your own without a dog, you still need to plan it sufficiently to ensure you are safe and healthy. When you add your dog into the mix, it adds to the amount of planning you need to do. Remember, you will need to hike at your dog's speed and look out for their needs as well as your own. Take this into consideration when planning your trip to ensure you get there with enough time to complete the hill climb, as well as choosing the correct route for both you and your four-legged pal.
Start As Early As You Can
With this kind of day trip, it is best to start as early as you can. Some of the quietest times of the day are in the morning, even on the most famous mountain trails. Therefore, it pays to get to bed early the night before and get up at the crack of dawn, if possible.
Pack Lots Of Food And Drink
This tip is hopefully common sense to most people reading this but is worth highlighting. You need to ensure you have enough food and drink for the entire time you will be on the mountain, as well as before and after. Remember, it's hoped that your day will go according to plan, but if there are any delays or the walk itself takes longer than you expected – you will be happy you packed that extra sandwich and those extra doggy treats.
The great thing is that doggy treats and biscuits don't use up too much space in your bag, and using a water bowl that can be collapsed, will save more space.
Related Post: Bulldog Dog Breed Information
Be Aware Of When Your Dog Needs To Be Kept On The Lead
Obviously, an important bit of kit you need to take for both your safety and that of your dog is a lead. There are some situations and parts of your hike that your dog needs to be on their lead. However, there are also other points where you could let him or her off for a few moments. It all depends on where you are hiking. On Mount Snowdon, it is actually illegal to have dogs off-lead. For their safety, unless you are at the base, it is best to keep them on their lead, though.
Related Links:
How Long Do Dogs Live – Does Their Food Affect Their Life Span?

Dog Eye Infections, Dog Eye Problems, Dog Eye Diseases

A Short List of Top Hypoallergenic Dogs

Dog Biting People – How to Prevent?

Smells in Dogs and How to Get Rid of Them?

Ibuprofen for Dogs — Dog Pain Medications

Choosing The Perfect Bed For Your Dog

A Reflective Dog Vests Has Saved My Pet's Life

My Dog is Scared of Everything all of a Sudden

Golden Retriever Puppy Checklist

Guard Dog Training and Barking Despotism

Change Your Dog's Food With These Five Brands

Learn Body Language to Train Doberman Pinschers

Dog Parenting Tips – How to Stop Excessive Barking in Dogs?

Tips About Attack Dog Training You Need To Know

Dog Food Reviews, Ratings and Guideline

Puppy Care and Training

6 reasons that the pit bull you're afraid of isn't the dog that's going to bite you

Agility Dog Training — Type of Agility Dog Training

Bird Dog Training Review

POTTY TRAINING – THE REAL STORY OF MY BABY

Dog Food Podcast

Hill's Presciption Diet R/D (Dry)

Hill's Prescription Diet CD Canine

Country Vet Choice Dog Food

Top Dry Dog Food in 2018

Purina Moist and Meaty Dog Food (Semi-Moist) – The Honest Review

Build A Relationship With Your Dog

Dog Care Tips and Dog Food Reviews

10 tips for travelling with dogs

HAPPY NOT TO BE HAPPY IN SAYULITA

A Brief description of Toy Poodles

8 Helpful Tips for Keeping Your Dog At a Kennel

Clingy Dogs: Is Your Dog a Velcro Dog?

What is a Velcro Dog Breed?

Why Dog Ramps are Perfect for Pets with Disabilities?

Dog Clothes for the Upper Class

ASPCA® Partners with IBB Group of Companies for Unique Jewelry Collection

How to Keep a Dog from Digging Under the Fence

Tips For Dog Obedience Training

The Right Way To Train Your Dog

Dog Frisbee — a favorite game of dogs and their owners

Steps To a Well Behaved Dog

Dog Beds — What Kind of Dog Beds Does Your Dog Really Need?

How to Bathe Your Dog?

Funny Dogs That Can Entertain You

Dog Health Tips: How Do You Tell If a Dog is Sick?

A Brief description of Toy Poodles

Hypoallergenic Dog Food – Natural Ingredients

A Short List of Top Hypoallergenic Dogs