During the chilly winter months, both humans and dogs might need some extra layers to stay cozy on daily walks. As you bundle up, take a moment to think if your furry friend could use some cold weather protection too.
Remember, big dogs with furry coats are usually built for the cold. Breeds like Alaskan Malamutes and Siberian Huskies have natural fur coats to keep them snug. However, some dogs might need a helping hand to battle extreme winter conditions.
Small and Short Haired Breeds: Tiny pups like Chihuahuas and French Bulldogs, with short coats, struggle to generate and retain body heat. They might need an extra layer to stay warm.
Low-to-Ground Dogs: Breeds like Pembroke Welsh Corgis have thick fur, but their bellies can get cold from brushing against snow and ice due to their height.
Clipped Long-Haired Breeds: Dogs like Poodles might have long hair but are often groomed, which can affect their natural coat insulation.
Lean and Short-Haired Breeds: Greyhounds and Whippets, with their sleek bodies and short fur, should be shielded from the cold.
Senior Dogs: Older dogs, especially those with health issues like arthritis, may need a winter coat. Aging can impact heat regulation, even in dogs with thick fur.
Once you've identified the need, look for a winter coat that covers the neck and belly, extending from the neck to the tail. It shouldn't hinder bathroom breaks. The coat should fit snugly without being too tight, allowing your dog to move freely.
Here are high-quality dog coats, available in various styles and materials, to ensure your furry best friend stays warm and comfortable as the temperature drops.
Hurtta Extreme Warmer Dog Winter Jacket
When the mercury drops and snow blankets the ground, this coat has your furry friend covered. Crafted with dense insulation, it's a winter essential for icy conditions. Engineered to warm vital muscle groups and reflect body heat, its sturdy polyester with a waterproof, breathable film ensures durability.
With a range of sizes and colors to pick from, this coat boasts a remarkable 4.7 out of 5-star rating on Amazon, endorsed by over 1,000 satisfied reviewers. Your dog will be ready to conquer winter's chill in style and comfort.
ThinkPet Dog Cold Weather Coats – Cozy Waterproof Winter Dog Jacket
When your budget is tight but warmth is a must, this coat is your go-to solution. Crafted from polyester with cozy polyfill padding, it offers snug comfort. While not fully waterproof, it's water-resistant, handling light snow or mist with ease. It boasts ample belly coverage and extends up the neck for extra coziness.
With a reversible design, you're getting two styles for the price of one. Available in sizes ranging from XL to 4-XL, it caters to a wide range of dogs. This coat boasts an impressive 4.3 out of 5-star average rating from over 5,400 reviews. Your furry friend can embrace winter without breaking the bank, staying warm and stylish.
Kurgo Loft Reversible Insulated Dog Quilted Coat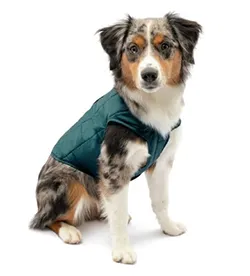 This sturdy winter coat is built to provide lasting warmth through numerous winters. With a water-resistant outer shell and cozy polyfill padding, it ensures your dog stays snug. While it's effective in most chilly conditions, it might need an added sweater for extreme cold.
Sizes are available from XS to XL, but for precise fit, consulting the size chart is recommended. With over 350 reviews on Chewy, it maintains a solid overall rating of 4.3 out of 5 stars. Your canine companion can brave the cold in comfort and style with this reliable winter coat.